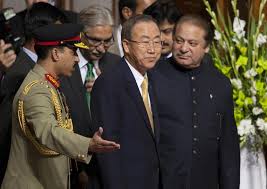 Jasbir Sarai
It is one week since five brave soldiers of the Indian army were killed by a Pakistan army operation deep into Indian territory on the line of control in Poonch. The matter rocked the Indian Parliament; Indian television news channels went into a seizure and the Nation expressed deep outrage. As usual, the incident has been forgotten and buried in all of seven days and more scintillating news has taken precedence. The violence in Kisthwar, Jammu and Kashmir, during Eid celebrations invaded the collective sensibility of the Nation for about three days; now Robert Vadra has taken centre stage.
Pakistan media, on the other hand, dealt with its Army's operation on the line of control in a calibrated and sophisticated manner. While the Indian side was going overboard, the response of the Pakistan media was muted. Pakistani commentators called for talk shows on Indian television channels demonstrated considerable skills at lying with a straight face; not one of them gave any inkling that their troops were involved in the incident.
A few days later on August, 08, Nawaz Sharif conveniently arranged a visit to his foreign office where he came out with a statement on the issue. He urged both sides to work swiftly to shore up the 10-year ceasefire threatened by the recent incidents and reiterated Pakistan's desire to persist in its efforts to improve relations with India through a constructive dialogue. Thus, with some clever and calibrated media responses, Pakistan managed to position itself as the party that was exercising restraint in the face of grave provocation by India.
By August, 09, Pakistan newspapers started carrying news reports implying that the United States and the United Nations were urging restraint. An actual or fabricated statement by US State Department, Jen Psaki, was carried by many Pakistani newspapers which said, "We are concerned about any violence, as always, along the Line of Control. We understand the governments of India and Pakistan are in contact over the issue. We continue to encourage, of course, further dialogue." By this clever move Pakistan gave credence to the idea that the international community was rooting for continuance of dialogue.
When Indian attention has been diverted to other issues, Pakistan started warming up on the subject. A number of opinion pieces and editorials came out simultaneously on August, 13 in major Pakistani dailies. The Express Tribune carried an opinion piece "Hysterical India, Mature Pakistan" by Naveed Hussain; the title itself does not leave any reason for elaboration of the content. An editorial in Dawn titled "Ceasefire tensions: LOC tensions" made some telling comments. It said, "Despite Prime Minister Nawaz Sharif's calls for restraint both India and Pakistan have traded accusations and the skirmishes have spread." It also said, "Army chief General Bikram Singh's anger at his commanders for not using mortar fire and artillery against Pakistani troops must be regretted." This editorial thus positioned India as the party hell bent on escalation of tension and Pakistan as the paragon of probity. The Frontier Post in its editorial "Unduly hostile Indian media" says, "The difference between Pak and Indian media is that while journalists in this country push their prime ministers and ministers in a straightforward way to not be too lenient towards India when it comes to giving concession, the Indian media becomes part of the Hindu fundamentalists." In other words India is a country dominated by fundamentalists
One would wonder at the strange coincidence by which three major newspapers of Pakistan carried the same topic on their editorial and opinion sections on the same day and that too when the issue was already a week old. By the afternoon the cat was out of the bag. Nawaz Sharif made a grand statement carried across the world in which he urged a "new beginning" in relations with India. The Associated Press of Pakistan quoted him as saying, ""Let us make a new beginning. Let us sit together to resolve all outstanding issues in a friendly manner and in a peaceful atmosphere." The grand finale came on August, 14, celebrated by Pakistan as Independence Day; Sharif, in a joint press conference with UN Secretary General Ban Ki-Moon said, "Pakistan will continue to respond to the situation with restraint and responsibility in the hope that steps will be taken by India to reduce tensions." This is the moment for which the entire media build up had been taking place
Any person with even a rudimentary knowledge of perception management would agree that Pakistan has laid out an excellent plan to show India as an inflexible aggressor stalling the talks. As Pakistan accuses our so-called right wing parties of throwing a spanner in the peace process it conveniently sidelines the fact that its main power players – the Army and the militants, are not in favour of the peace process gaining momentum. Having tasted success in the first round Pakistan is now keeping tension alive along the line of control and creating a situation that will tie down the hands of the Indian government even more. The ostensibly free Pakistani media has been an active supporter of this grand strategy. The talks will stall and the world will feel that it has happened due to Indian inflexibility. What India feels is, of course, of no consequence to Pakistan.
Even if we take at face value the commitment that Nawaz Sharif has towards building peace and trade relations with India, the tenuous situation in his country and its virtual subjugation by the gun culture is there for all to see. To expect any forward movement in restoration of relations at this stage would be simplistic. Indian should see through the Pakistani grand design and structure a response that meets ends of diplomacy as well as nationalism. For this unity of purpose is a prerequisite.