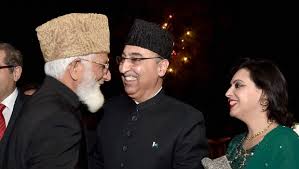 Ranjan Chauhan
Pakistan celebrated its national day (Pakistan Day) on March, 23, with great fanfare! The celebrations assumed importance this year because the traditional parade was held after a gap of seven years. The last military parade took place on March 23, 2008, when General Pervez Musharraf was President; ever since it has been cancelled due to security concerns. These cancellations have caused considerable trauma and humiliation to the people of the country. This year too there has was a bit of an embarrassment when the Chinese President first agreed to attend the parade as chief guest and later refused due to security concerns.
The history of Pakistan Day is quite interesting. It was on this day in 1940 that the "Lahore Resolution" calling for a separate homeland for Muslims in India was passed. Later in 1956, it was on this day that Pakistan's first constitution was implemented. The Constitution declared Pakistan an Islamic Republic with a democratic parliamentary system of government.  Accordingly, the day was celebrated as Republic Day for the first two years. Sadly, the 1956 constitution was abolished as a result of the first military takeover on October 7, 1958. This day was then observed as Pakistan Day or Pakistan Resolution Day.
Over the years, Pakistan has failed consistently in standing up to the ideals of the founding fathers of the nation. The country has been unsuccessful in providing the envisioned enlightened and progressive democratic framework inspired by the ideals of Islam to the people. It has, instead, degenerated into a regressive feudal system of power centres with the Army at the top followed by a corrupt bureaucracy. The inept political leadership has been unable to control this military-bureaucratic nexus due to its blinkered vision and crooked approach.
The situation has been summarised in the most apt manner by Kamal Siddiqi, a prominent columnist of Pakistan, he says, "We have made merry on American and other Western aid. Much money has been used and abused. We have seen natural disasters hit our country with regularity and have learnt no lessons from each experience. Our national security paradigm has been turned upside down. We have gone backwards in terms of progress as a nation."
Being unable to put its house in order has not deterred Pakistan from covetously eyeing Indian territories especially so in Jammu and Kashmir. To fructify its evil agenda Pakistan fought and humiliatingly lost four conventional wars. It then pursued an evil agenda of exporting terrorism into Jammu and Kashmir and onwards to the rest of India; this immoral plan has also remained unsuccessful.
Despite repeated failures Pakistan has is quite unwilling to relent from its nefarious activities.
In the current instance, the High Commission of Pakistan in India has misused the occasion of Pakistan Day to further its divisive policy. The High Commissioner of Pakistan, Abdul Basit, held discussions with the so-called leaders of the various separatist Hurriyat factions and then invited them to the formal dinner to celebrate Pakistan Day. He did so knowing full well that India resents such distasteful acts.
Abdul Basit went a step ahead to declare that the separatists can be important stakeholder for the proposed talks between the two countries. Mirwaiz Umar Farooq, chairman of the Hurriyat moderate faction picked up the thread from the statement and said, "Wonder why there is so much of resistance towards this dialogue involving Kashmir residents on both sides."
Apparently, Mirwaiz has got the script wrong. First and foremost, India is not in talks with Pakistan about the status of Jammu and Kashmir as an integral part of the country, the point of contention is return of such areas of Jammu and Kashmir that are under illegal occupation of Pakistan. Next, the people of Jammu and Kashmir are always kept in the loop of the discussions held with Pakistan through their duly elected government and elected representatives of all parties in the state legislative assembly. The interaction and integration is in tune with the best democratic practices.
The Hurriyat is not in the loop since it has no representative status. In fact it is a marginalised entity surviving due to the oxygen provided by functions like the one held in New Delhi on Pakistan Day. They come into the lime light for a short period and again fade away into oblivion.
When Pakistan has been unable to fulfill its evil designs even after fighting four wars and sending thousands of terrorists into India what does it expect from a few marginalised so-called leaders like the Kashmiri separatists who are themselves fighting a losing battle for political survival?
Quite obviously the ill conceived interaction with the separatists will jeopardise early normalisation of relations between India and Pakistan which is more important for Pakistan than for India.  For the sake of non-entities Pakistan is ready to risk lasting peace with India.
Pakistan should concentrate more on consolidating what it has rather than looking towards new territories. It should be fighting poverty which is the real reason behind extremism. It should be working towards building trust with the people of Balochistan and other insurgency affected areas. By indulging in regressive acts like meeting the Kashmiri separatists the country is simply wasting time and energy and in the bargain losing much needed goodwill.
Prime Minister Narendra Modi has made special effort to reach out to Pakistan on Pakistan Day. He greeted his counterpart Nawaz Sharif and called for talks in an atmosphere free from terror and violence.  The Indian leadership has consistently been giving this message to Pakistan; it has always shown great maturity in the face of grave provocation.
Pakistan has tried all inimical means and failed. It would be good for the country to go for a course correction and try out the friendship route with India, it will be surprised by the positive dividends that such a move is bound to accrue.