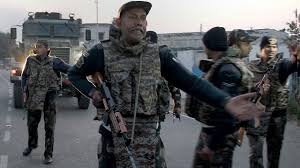 Vikas Khanna
While Indian government may be self congratulating itself for containing the terror attack in Pathankot and securing assets in the air base, it can be accused of glossing over intelligence failure. Authorities had prior information of such an attack. An alert had already been sounded. Then on Friday, the terrorists infiltrated into India before striking at two different places in Pathankot. They first killed a 40-year-old Sikh man before decamping with his Innova car. Later they seized an official car of Gurdaspur Superintendent of Police (headquarters) Salwinder Singh on the Pathankot highway before driving down from the border to the heavily fortified strategic air base, about 25 kilometres away. The terrorists were on the loose from Friday till early Saturday when the first contact with them was made at 3.30 a.m. at the air base. And mind you, they were heavily armed, had assault rifles and grenades. And still they could not be spotted.
Two important questions arise here? Firstly, security agencies had specific intelligence about the terror attack at least four to five days in advance.  Secondly, the Gurdaspur SP had alerted Punjab police about the incident and the presence of five terrorists on Friday itself after his car was waylaid. Still the security agencies could not locate them. In fact, there was a delay of full 12 hours before the agencies began probing the terror angle despite being told by Salwinder Singh. The terrorists themselves announced their arrival at the air base after they opened fire at security forces. If this is not intelligence failure, then what will you call it? Their main aim was to carry out a spectacular attack and they succeeded partly in their mission. If our security agencies could not track them despite having specific intelligence information, then something is wrong somewhere. But we won't own it.
The government and security agencies are still unsure about the number of terrorists. It's four, perhaps six or more. We don't know yet. As the siege dragged on, it became clear that there were certainly more than four terrorists. Home Minister Rajnath Singh, who was quick to announce the end of operation by commenting that all five terrorists were killed, was forced to delete his twitter after it became known that only four terrorists were neutralized and there were reports of fresh firing. Was the Home Minister in the dark or he jumped the gun? It clearly shows there is no coordination among various agencies.
Nobody has answers yet as to how many vehicles did the terrorists use? Some reports suggest two teams may have entered the airbase using two different vehicles. If it is true, then where is the second vehicle? Did somebody drop the second team of terrorists near the air base? It's all speculation. We don't know yet.
And it is less said the better as far as monitoring of the international border with Pakistan is concerned. There are reports suggesting that the terrorists might have crossed the border from the same point from where terrorists from Pakistan had infiltrated before carrying out a daring attack on Gurdaspur police station in July last year in which 10 people were killed. We were told that more troops were sent to the border after the Gurdaspur terror attack. But still they could not notice the movement of terrorists? How does one explain this? Clearly, the Border Security Force is inattentive and did shoddy work in guarding the international border.
The fact of the matter is that we have not learnt any lessons from previous attacks. Why is it that terrorists succeed in carrying out the attacks whenever they wish to? We just respond to the attacks by eliminating the terrorists and pay a heavy price by losing our brave hearts. There is something seriously amiss in our intelligence gathering and sharing. It is high time we strengthen our intelligence network so that the terrorists are either arrested or neutralized before they dare to attack our country. Hope, it is not a wishful thinking.
(Vikas Khanna is a senior journalist and columnist)