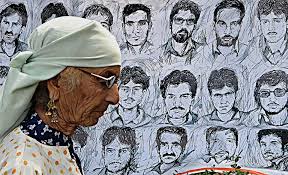 Farooq Wani
The unilateral suspension of operations during the holy month of Ramadan in Jammu and Kashmir has entered its third week now. Reports suggest that stone pelting and recruitment of youth into the fold of militancy has witnessed a downward trend. The slightly positive response of the separatists to the governments offer for talks has added positivity to the environment.
The central and the state government are gearing up to carry out an assessment of the impact. The positivity in the environment is giving an impetus to the government to further leverage the initiative. Weaning away the youth from the cult of terrorism has emerged as a Key Result Area (KRA) for the government. Union Minister Rajnath Singh has an agenda of meeting the prominent youth of the country (academicians, sportspersons etc) to invite suggestions with regard to the ways and means that can be adopted to "Discourage youth from joining militancy." It is opined here that the state should also seek active participation of mothers in getting this matter, since they can paly the biggest role.
After the 2016 unrest things in Kashmir changed and a new trend of educated youth throwing away the pen and picking up the gun started. The educated children in the Valley of Jammu and Kashmir may think that they are politically aware of the situation but their innocent minds cannot see the concealed vested interests that are currently redefining the Kashmir struggle.
Those who are encouraging violence tell the youth that by picking up the gun they are fighting a 'holy war' and the simple young boys start believing this to be true.
Undoubtedly, the rhetoric that is being used for the purpose is unsubstantiated and inflammatory in nature. Sustained repetition points towards a well laid out plan to get a psychological impact on vulnerable minds through a very professional and efficient propaganda campaign.  The campaign has exhibited its potential to sway emotions of the younger generation and encourage the youth to pick up the gun and become militants (so-called Mujahideen).
However, while picking up the gun may be easy, leaving the fold of terrorism is very difficult indeed. Though there have been some cases in the past where this has happened, it is a known fact that terrorist leaders make it clear to their cadres that on no grounds will any requests from them to be allowed to give up the gun and return to their old lives be entertained.
It is in this context that family support, especially from the mothers in Kashmir, becomes more relevant because sons do appreciate and reciprocate their mother's love, affection and sacrifices. When a mother does so much for the wellbeing of her son, she is obviously is the most distressed and shattered person when her son meets an untimely and avoidable end in a gunfight with security forces. Any act of a son that brings tears in the eyes of the mother and breaks her heart is a sin as it a sign of ingratitude towards one who has sacrificed her everything to ensure that he lives a long and happy life.
Ace footballer Majid Khan who became a militant listened to his mother's frantic appeals and returned home. Had he not done so, he would have either been killed in some encounter or would be living the tense life of the hunted. Here a very interesting question comes up which is, did Khan's goodbye to terrorism harm the Kashmir struggle in any way? The answer is obviously 'No' and this goes to prove that the belief that 'Azaadi' can only be achieved by the gun is absolutely misplaced.
The influence of a mother on her children is tremendous and that is why even Director General of Police S P Vaid said "I request other mothers to make such appeals to their sons asking them to follow (Majid) Khan's footstep." Yet, mothers can't change things all by themselves and they require help and support from society. The elders in Kashmir must understand that sloganeering, lockouts, stone pelting and most of all eulogising killed terrorists with huge funeral processions. are the drivers sending the boys into the fold of terrorism and those who walk this path are only inviting death for themselves and ensuring a lifetime of miseries for their mothers and families.
The youth should also remember the old saying of 'the pen being mightier than the sword' and realise that picking up a gun and becoming martyrs is not the right way to fulfil the aspirations of their people, especially so in India where democratic tenets give every opportunity for expression and absorption of legitimate political views. There are many alternatives to contribute to the Kashmir struggle, if there is any need for one.
We have many examples of Kashmiri youth who have excelled in several competitive exams and other fields like sports and this has made their mothers proud. Every mother in Kashmir wants her children to become like Shah Feasel and Aamir-ul-Shafi Khan who not only brought laurels to their families but to entire Jammu and Kashmir. To add to this, their laudable achievements are directly contributing to the betterment of Kashmiri society as they serve as a source of inspiration for others.
Those who have joined the terrorist fold should realise the anxiety and fear that their decision is creating in the minds of their mothers and they must return home. Those who are thinking of picking up the gun should remember that by doing so they would be causing immense agony to their mothers. Lastly, the youth who have either picked up the gun or intend doing so should realise that those who assure them that this path would guarantee them a ticket 'for 'Jannat' are out-rightly lying.
As the state and especially the Kashmir valley takes a significant step towards ushering of peace in an initiative that finds its roots in the holy month of Ramzan let every son of Kashmir pledge not to do anything that would hurt his mother and his family. Let every mother also protect her son from evil influences that would end his very precious life for no reason whatsoever. The government is making a very honest attempt to reach out to the people; even the slightest attempt towards reciprocation can set in motion a movement that could lead to lasting peace in Kashmir.
(Farooq Wani is a senior journalist and analyst)