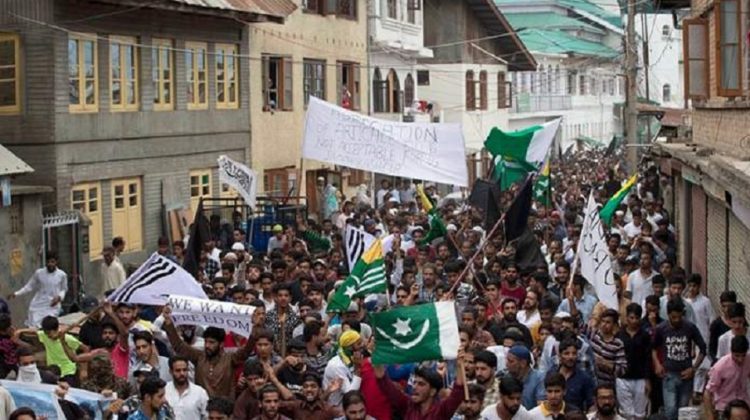 Dr. Simrit Kahlon
Pakistan is observing yet another irrelevant and fatuous "Kashmir Solidarity Day" on February, 05. This is an annual ritual since 1990 whose stated objective is to support the so-called struggle of the people of Jammu and Kashmir towards self-determination of their political status. The actual objective of this evil agenda is downright propaganda. It is totally divorced from the reality on ground and a pointless exercise in futility.
The events on this day follow a set pattern. One minute silence will be observed throughout Pakistan and orchestrated processions complete with banners and leaflets are taken out in a few major cities. The prime minister of Pakistan gives a message which normally refers to the need to resolve the so-called Kashmir dispute through the United Nations. This is followed with a veiled threat that without negotiations with Pakistan "peace and prosperity of the region will remain elusive." Such statements give a clear indication of Pakistan's involvement in disrupting peace in Kashmir by promotion of the cult of terrorism
Fundamentalist Jihadi leaders like Mullah Masood Azar and Hafiz Muhammad Saeed, who should actually be behind bars, come out in the open and spout venom against India while exhorting their followers to pick up the gun against Kashmir in the name of Islam.
Thus, Pakistan utilises this day to send out a message that it will not relent from its evil agenda on Kashmir unless India is coerced by the United Nations into abdicating Kashmir. This is nothing more than coarse blackmailing tactics of the worst kind.
Pakistan, with a complete media blackout, hides the massive protests that take place in Pakistan Occupied Jammu and Kashmir (POJK) on this day and many days before and after. The people come out in the streets in great numbers and hold demonstrations against the federal Government. This too has become a ritual since the past many years.  The protests are an expression of the frustration of the people because of lack of development, acute human rights violations and non-existence of civil liberty and fundamental rights in POJK. The people openly blame the notorious Inter Services Intelligence (ISI) for exercising overarching control over the sham administration and perpetrating atrocities upon them.
The idea of Pakistan expressing solidarity with the people of Jammu and Kashmir is preposterous at the very outset. Where, one wonders, is the oneness of cause or interest that would ignite a feeling of solidarity? Pakistan claims an emotional bond with the people of Kashmir. This is a fallacious claim. What exactly has it done for the people of Kashmir over the last six decades since it has been rendering "diplomatic and moral support" to them? It has only caused bloodshed and untold misery by exposing the region to barbaric terrorism.
Pakistan also claims a cultural and ideological bond with the people of the two Union Territories (UT)  of J&K and Ladakh. This too is a fallacious claim. J&K and Ladakh comprise of people with different ethnicity. How can Pakistan, being an Islamic state, claim cultural affinity with all of these people  that includes Hindus, Sikhs, Buddhists, Pahari's etc?  Besides this, what solidarity can Pakistan foster when it is highly polarised within itself and in the throes of an intractable conflict?
Anti-India protest by terrorist Hafiz Saeed in Pakistan on Kashmir Solidarity Day
The only intervention that Pakistan has done over the last many decades is spread of terrorism that brought terrible misery to the people. It has attempted to guide the youth on the evil path of violence which has led to avoidable loss of life and ruined families.  This evil agenda of Pakistan has been contained by the security forces with active support of the same people.
The security forces, led by the Indian Army, have not only contained the menace of foreign sponsored terrorism they have also been in the forefront in providing assistance whenever the region has been afflicted with some calamity or natural disaster. In fact, on such occasions, all people of India have risen spontaneously to assist their fellow citizens in Kashmir. This is what solidarity is all about. India has always nurtured Kashmir, and rightly so, since it forms an integral part of the country.
Jammu and Kashmir is a constitutional part of the Indian Union. Its people enjoy all fruits of liberty and freedom enshrined in the Indian Constitution. The region regularly witnesses free and fair elections and changes in governance are implemented seamlessly. Successive governments have, with unstinted support of the centre, followed a path of development despite the menace of foreign sponsored terrorism. The region boasts of the highest parameters of development available in the Indian Nation in most of the important segments like infrastructure, benefits under the rural employment guarantee scheme, free quality education, health care, development of basic sectors like agriculture, horticulture etc. Abrogation of Article 370 and bifurcation of the state into two Union Territories has given a fillip to the region. The Union Government of India is committed to holding elections in the Union Territory of J&K as soon as the process of delimitation is completed.
Pakistan and its stooges in Kashmir should be very clear that they cannot shake the Kashmiri bond with the Indian Union by indulging in politically motivated and propagandist actions. It has no takers in Kashmir being nothing more than blatant symbolism and opportunism. Pakistan simply cannot cover up its misdeeds by observance of such lopsided "solidarity." The nation would be well advised to understand the sentiments of the people residing in POJK and take tangible action towards improving their living conditions. They, at least, should not be kept in perpetual misery due to the feud between two neighbouring countries. Pakistan should also realise that the people of Jammu and Kashmir and POJK are not fools to be taken in by such idiotic propaganda and that it cannot shake the Kashmiri bond with the Indian union by indulging in politically motivated and propagandist actions.  
(Dr. Simrit Kahlon is an academician and columnist)