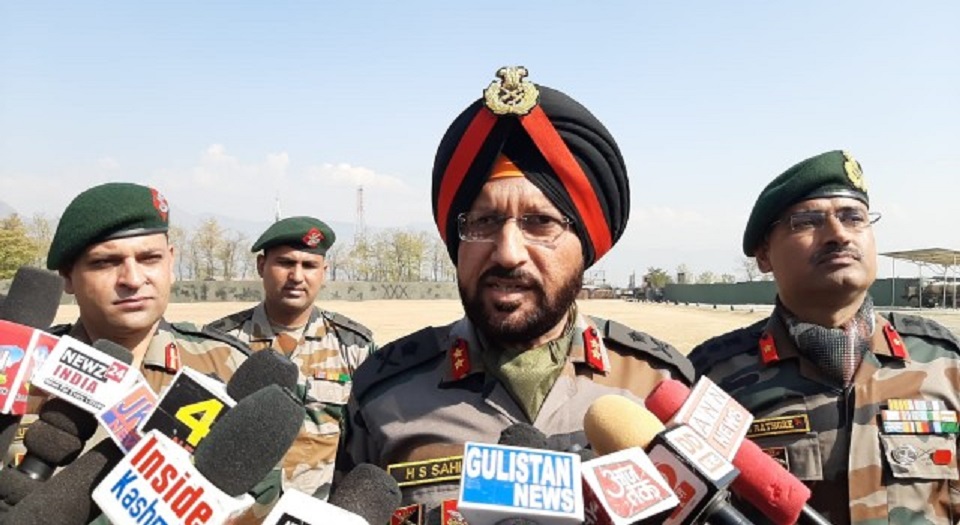 Onkareshwar Pandey
Three terrorists have been killed in an overnight encounter in Lawaypora area of central Kashmir, in the outskirts of Srinagar, in a joint operation of Police, Army and CRPF. The gunfight broke out after the security forces launched a cordon and search operation in the Lawaypora area following specific inputs about the presence of terrorists there.
This was the first major encounter with terrorists in Kashmir after the peaceful completion of the first-ever District Development Council (DDC) election, which was also the first election held in Jammu & Kashmir post reorganisation of the state into a Union Territory and abrogation of Article 370 and Article 35A in August 2019. Since, this election is seen as the beginning of restoration of the democratic process in J&K, it is believed that the terror masters across are planning to step up activity to disrupt the peace process. In this planning they have the complete support of the remnants of the separatist organisations and other forces in Kashmir that are inimical to the Indian Union due to some vested interests.
"This was a clean operation and there was no causality to the forces," said Major General HS Sahi, General Officer Commanding (GOC) of the Kilo Force  in a  press conference. He was flanked by Brigadier Naresh Mishra, Commander 10 Sector RR and JK Police Superintendent of Police (SP) West Shehzad Saliar besides other officials. He added that the affiliation of the slain trio is yet to be established. As is the norm, the cornered terrorists were given a chance to surrender but chose to put up a fight and got killed in the process.
Once George Santayana had said, "Those who cannot remember the past are condemned to repeat it." It seems that lessons from history contain no meaning for the separatists and inimical forces in Kashmir. They fail to realise that their anti-India activities and utmost support in the execution of Pakistan's proxy war in Kashmir is paving a way to their peril. It is high time to remind them of the atrocities inflicted by the orthodox Islamist Pakistan Army upon thousands of innocents earlier in East Pakistan that got its freedom and now in Baluchistan, Gilgit-Baltistan and Sindh . All minorities are suffering terrible persecution in Pakistan.
The political and religious leaders of Pakistan and more significantly the Pakistan army leadership are least concerned about the people of their own religion; they do not hesitate in drawing such policies and implementing such laws which trample the betterment of the natives but fulfil the selfish motives of the predominantly Punjabi Pakistani elite class. On the surface Pakistan tries to hype the fake narrative of injustice taking place against Muslims in Kashmir, but in reality all of its provinces except Punjab are suffering from this injustice.
Despite Shias, who are natives of Gilgit-Baltistan, being accepted universally as a part of the Muslim community, they are consistently persecuted by the Sunnis of Pakistan. The Musharraf Government used Pathan tribesmen of NWFP and Afghanistan along with its army to suffocate and ultimately silence the protests of Shias. The houses of Shias were set on fire; their crops were destroyed; their women were raped; numberless Shias were kidnapped and butchered. Separatists of Kashmir, dreaming either to merge with Pakistan or carving out a separate nation should wake up because their fate will be no different from the Shias of Gilgit-Baltistan.
Protest against killing of Shias in Pakistan 
Nor the separatists in Kashmir should forget that the Pakistani Army has been accused for executing genocide in Baluchistan. Whosoever tried to open his mouth in protest was tortured to death. Chief Minister of Baluchistan, Akhtar Mengal, is a stark example;  he was imprisoned and denied basic human rights. With the increase in the activities of ISI in Baluchistan, there is also an increase in the disappearance of Balochs. Many Baloch student activists, journalists and sympathisers have been arrested and gunned down openly. Hamid Mir, a journalist, was gunned by an ISI agent for hosting a program in the region. Sabeen Mahmud, a human right activist, tried to throw light upon the terrible condition of the Baloch people and was assassinated. The reckless kidnapping and butchering of the Baloch people has converted this region into a land of mass graves.
Killing and inflicting torture upon Baloch was not sufficient for the Pakistani government; they also exploited the region which is rich in oil, gas and minerals. In spite of the ample natural resources leading to gas production and mining, Baluchistan has remained the most backward state of Pakistan.
It is also necessary to remember the atrocities committed upon the people of East Pakistan now Bangladesh in 1970-71. In those days, the focus of investment and development was West Pakistan; Bengali speaking Muslims were kept devoid of growth and advancement with no foreign aid directed towards them. When East Pakistan demanded a good share of autonomy, they received devastating brutality. Civilians were killed, students butchered and women raped by the Pakistan army post imposition of military rule.
If the separatists in Kashmir are so desperate to join Pakistan, then, they should start training themselves to bear repression mutely because the "freedom of speech and expression" that they take for granted in India, does not exist in Pakistan. They should  also gear themselves up for psychological insecurity and social stigmatisation that are the landmarks of their so called ideal nation, Pakistan.
The separatists and other inimical forces should stop acting in a disloyal manner towards India and should stop taking advantage of the fundamental rights enshrined in the Constitution and human rights prevalent in the country. They should not check the patience of Indians and their Government; otherwise the day is not far away when Indians will start demanding that they be deported to their favoured destination.
The words of Warren Buffet precisely describe the Separatists in Kashmir – "What we learn from history is that people don't learn from history." However, the successful and peaceful conduct of DDC polls clearly indicates that the educated people of Kashmir want economic development and a bright future for their youngsters.
(The writer is a senior journalist based in Delhi. E- Mail – editoronkar@gmai.com )