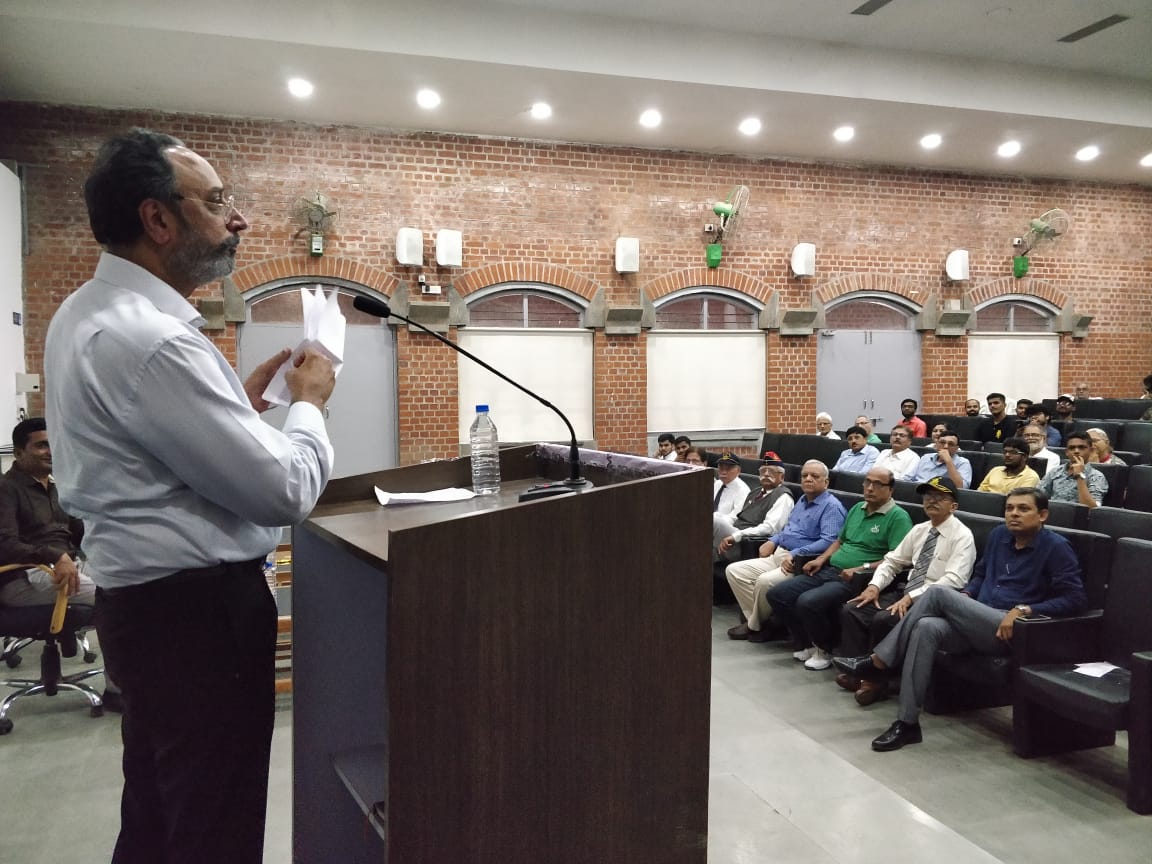 Defenceinfo News Bureau
Ahmedabad, July, 26: Academic institutions of Gujarat organised lectures and discussions on the occasion of Kargil Vijay Diwas. The topics ranged from an overview of the Kargil War to the current situation in Jammu and Kashmir, inclusive of its strategic importance and geo-political significance.
Col (Retd.) Jaibans Singh, a reputed Defence and Security Expert, addressed gatherings of students, academicians and eminent citizens at University of Gujarat in the morning of 26th July and a similar gathering at MS University, Vadodra, in the evening. On 27, July, he addressed a gathering at NS Patel College of Arts, Anand
Col Singh described the Kargil battle as one with no comparison in the annals of military history. The courage and commitment of young Indian soldiers who fought the war under leadership of committed and professional senior officers caused an ignominious defeat to Pakistan Army who had ingressed Indian territories in a duplicitous manner.
Jaibans Singh explained that Pakistan launched the operation on the basis of a weak plan mainly to avenge the humiliation of its losing the Siachen Glacier to India and also to give a boost to its sponsored terrorist activities in the state. In the process it led to certain death its soldiers from the Northern Light Infantry, who were chosen to be the cannon fodder for the misadventure. These simple soldiers of the Northern Light Infantry belong to the Gilgit-Baltistan region of Pakistan Occupied Jammu and Kashmir.
While speaking on the current situation in Jammu and Kashmir, Col. Singh said that the policy of the government to boost development with zero tolerance to terror and disruptive activities is being welcomed by the common man of the region and paying good political and social dividends. Jammu and Kashmir is witnessing an unprecedented era of peace and prosperity. Terrorism is on the decline and will soon be totally eradicated.
He said that such leaders who win election on a few thousand votes should not be deemed to be representatives of the whole state since they do not come in the category of mass leaders. There is a need to strength democracy at the grassroots in the state in which regard the recently held Local Urban Bodies and Municipal elections are a step in the right direction that will change the political narrative in the state by making it more people centric and inclusive
Col. Singh also stressed upon the need for the country to develop an informed strategic culture. There is a need to ensure that Indian Armed Forces are not found wanting in any military requirement so that the enemy remains dissuaded from planning any such misadventure in future.