Onkareshwar Pandey
In a spectacular, intelligence based operation along the Line of Control (LOC) alert troops of the Indian Army foiled a huge infiltration attempt from Pakistan Occupied Jammu and Kashmir (POJK) in the Hathlanga forest area of Rampur, District Uri, Kashmir. The Indian forces deployed along the LOC had been on high alert since the last few days due to a spurt in infiltration activity having been observed at different points along the LOC; a similar attempt was made a few days earlier, on 18 September; it was unsuccessful but the terrorists managed to flee.
This time round the terrorists were not so lucky since an ambush had already been laid on the basis of intelligence inputs. The group of five terrorists had divided itself into two sub-groups of two and three. When the first group of three crossed over the LOC it was challenged by the ambush party. The terrorists panicked and opened indiscriminate fire which was returned in force by the Indian troops leading to the killing of all three terrorists. Huge quantities of arms, ammunition, war like stores and foreign currency was recovered from them including five AK-47 rifles, seven pistols, 5 AK magazines, 24 UBGL grenades, 38 Chinese grenades, seven Pakistan made grenades, Rs 35000 Pakistani currency and some eatables. Some papers related to identification were also recovered. The other two terrorists who were bringing up the rear escaped back to Pakistan occupied territory.
Pakistan is finding it almost impossible to infiltrate trained terrorists from its soil to Jammu and Kashmir. Local terrorists are being recruited albeit to a very much reduced degree than earlier; even those recruited cannot be trained to any acceptable level, they hardly know how to fire a rifle, what to speak of tactics and war craft.
The huge quantity of Grenades that the terrorists were carrying over and above their personal arsenals gives an indication that Pakistan wishes to provide Grenades to its local terrorists for conduct of cowardly stand-off Grenade attacks on innocent civilians.
It is so because the terror mongers sitting across can no longer provide adequate strength or training to their operative cadre in Kashmir to go for conventional strikes. It is notable here that the frequency of Grenade attacks in the Valley has increased but not to an extent that could cause serious damage.  Alert security forces have been able to foil many grenade attacks, yet the attempt continues since it is the only option available to the terrorist leadership.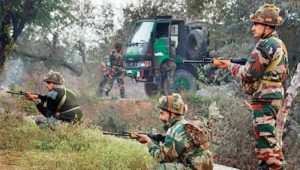 Counter-Infiltration grid in Kashmir 
The outgoing Chief Minister of Punjab, Captain Amarinder Singh, has flagged security as the most sensitive issue in his state. He has given details of hundreds of attempts to smuggle arms and ammunition across the border through use of Drones and other conventional means. These arms and ammunition are not meant for Punjab alone; on being successfully smuggled in, they often find their way to Kashmir through well established routes across the Pir Panjal range. Grenades form a major portion of the arms consignments that are attempted to be smuggled in, which further indicates their importance in the Pakistani scheme of things for both Punjab and Jammu and Kashmir.
It is also quite well known that Lashkar-e-Toiba (LeT), the most hated Pakistan based terrorist organisation directed towards Kashmir has, for quite some time now, been operating under a new name "The Resistance Front." Latest reports from the National Intelligence Agency (NIA) have hinted at increased activity by this organisation in Kashmir.
From the foregoing facts it becomes quite apparent that Pakistan has not given up on its diabolic design to keep the flame of terrorism alive in Kashmir and also spread it to other parts of India like Punjab. It is frustrated due to the continuous failures that it is facing in its attempt to resurrect terror, but the frustration is not reducing its resolve. It is, in fact, resulting in creation of new and innovative ways for smuggling of war like stores to be used by the locally indoctrinated and recruited terrorist cadre. It remains unconcerned about the financial loss that it is accruing due to the seizure of its stores; nor is it deterred by the loss of life of the terrorists being sent in who are being killed by the Indian security forces on a daily basis. Pakistan wants to hit out with whatever it has got, even if it means hurting innocent civilians through Grenade attacks or use of untrained youth as cannon fodder.
It is for this reason that the degree of alertness is not being let down in Kashmir. Recently Indian Intelligence agencies issued a terror alert in Jammu and Kashmir where the possibility of infiltration of Afghan origin terrorists along with Pakistani terrorists during the ongoing festive season was highlighted. It is reported that intelligence agencies have inputs of increased activity in the camps of terror organisations like Lashkar-e-Taiba (LeT), Harkat-ul-Ansar (HuA) and Hizbul Mujahideen (HM). Of the three terrorists killed in Uri, one has been identified to be of Pakistani origin, there is a possibility of the other two being of Afghan origin as could be the two who ran away, which indicates the merit in the intelligence advisory.
It is also quite apparent that these terrorists who tried to infiltrate in the Uri sector were very well trained and had been given responsibility to conduct a big operation. Its abject failure is a gigantic setback for Pakistan and a big slap on the face of the terror organisations operating there. Kudos to the Indian Army units deployed along the LOC and to the military leadership for having laid a meticulous trap and neutralised the threat in its entirety. It further goes to prove that even if the Taliban joins hands with Pakistani terrorist outfits they will not be able to achieve anything other than death in the hands of the brave Indian forces.
(Onkareshwar Pandey is a senior journalist and thought leader)