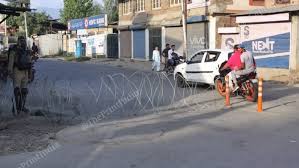 Ishfaq Mir
There is no denying that, in today's age of digitisation, Internet and social media dependence, is intense. It is difficult to imagine life without Internet. Many daily chores such as renewal of a driving license and other documents, transfer of money, filling admission forms, checking e-mail and so on come to a standstill if net connectivity is broken. There are many businesses, social, educational and other activities that are carried out through Internet and they get shut down causing economic loss and problems.
There is, however, a downside. Excessive use of internet and social media has seriously harmed the memory, cognitive abilities and comprehension of students as also the span of attention. A large number of deadly diseases have been scientifically proven to be caused by the excessive use of mobile phone.
A study conducted by social scientists in USA revealed that, ever since the invasion by Blackberry in 2008, school children have been losing the ability to comprehend even simple passages. They cannot analyse even simple issues and have stopped using their memory to store facts of vital importance. The span of attention which, once upon a time served as the parameter for deciding the duration of a classroom period of 40 minutes, has dropped so low that a child cannot focus even for ten minutes. This has affected effective intelligence, emotional quotient and social adaptability.
A child stops relating to him/herself, to relatives, friends, aims and objectives in life. If this impact on childhood is extrapolated onto youth, the result is in terms of dwarfing of personalities, low esteem, sub minimal ambitions, aspirations and development of an individual who feels isolated even while he is in a crowd.
On the social front, the fabric gets affected and societies start getting fragmented. Today, how many parents feel that their children are what they dreamt of? How many students are excelling on their personal merit? Most of them who are leading the charge in terms of careers are those who belonged to rural and remote areas where either there was no internet.
Another study suggests that those using mobile phones activity for social media platforms, remain out of focus for a better part of the day. Each notification received on the phone distracts the person and it takes 30 minutes to get the focus back. If such is the propensity of distraction due to internet and mobiles, then one can imagine whether there is any space for constructivism in the lives of children, especially, when the environment too is in a state of conflict. Hence, a sabbatical from the internet and mobile phones may prove to be a blessing in disguise.
There is no denying that Kashmir has suffered considerably due to the communication shut down since August this year that was necessitated to ensure law and order post the reorganisation of the state into two Union Territories. The situation, however, also comes across as an example of how life becomes better in the absence of modern communication facilities, particularly for Kashmir where internet has, for long, remained a source for social, psychological and mental turbulence.
For many years now, children in Kashmir have been subjected, through the internet, to a constant state of uncertainty, insecurity and fear emanating from militancy. While a portion of this ecology is a fallout of the prevailing situation, much of it was engineered by vested interests. An innocent mind being subjected to the "not so palatable" environmental realities causes avoidable trauma and turmoil.
In Kashmir, where the conflict has been ongoing for decades now, the mental afflictions have deepened and caused permanent shift in the behavioral patterns. Unexpected behaviors, divergent needs, wants and interests cause a divide in relationships, thus hitting the emotional chord of the individuals.
Hence, the need of the hour is to create conditions for children and youth of the region to give a serious rethought to the use of the internet and what it entails. Even when the internet and mobile phones start working, a voluntary effort must be made to ensure that it is used for positive reasons that add value to life rather than getting negatively affected by such literature that has been posted with an inimical psychological objective in mind.
Social media serves well for people to connect with each other. However, the manner in which social media has spread and expanded, is neither needed nor desirable. An average human being is spending 3 to 6 hours per day on social media, and if the person is not employed professionally, this may go up to 10 hours or beyond. There are numerous reasons that attract a normal person to social media for prolonged periods. Firstly, it gives anonymity and freedom to express. Secondly, multifarious emotional needs are satisfied. While it is fine to think that the emotional needs are being fulfilled, it is imperative to know that these needs are being met through a "pseudo identity." A "Virtual existence" is not a welcome event or process in life. It creates a false personality where in the person grows to be emotionally hollow. Is this what our children and youth deserve?
Lack of internet, mobile connectivity and social media is unthinkable in today's age and life seems lifeless. But when it goes missing from the horizons, for some or the other reason, we tend to become better human beings. Family members start sitting and spending time together, people start attending to relatives, youth start reading books and magazines and couples start expressing their emotions to each other. Students get their focus back and elders start seeing their children more empathetic. Dividends of being offline are far and wide; some can be experienced in short term, the others take longer. Let us hope that after this long sabbatical, once internet return in Kashmir in the near future, its use will usher a new enlightened era that the world will need to see and emulate.
(Author can be contacted at ishfaqmirahmad@gmail.com)