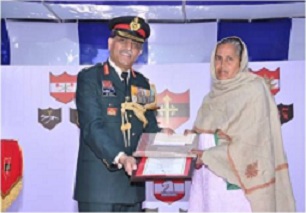 Dr Simrit Kahlon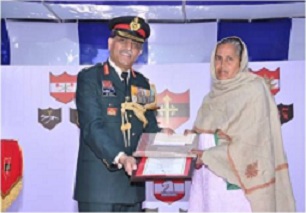 Acknowledgement of achievements is an important aspect of nation building. It give a sense of pride to the recipients for having their efforts recognised by the society that they live in and motivates others to strive beyond their capabilities to achieve something memorable. Such acknowledgements become all the more important in regions like Jammu and Kashmir that are emerging from the throes of debilitating foreign sponsored terrorism and need something good and positive to look forward to.
In a unique initiative, the Indian army in Jammu and Kashmir has, on the occasion of Army Day this year, identified a number of civilians who have made some meritorious contribution to society or have an exceptional achievement to their credit and honoured them was an award. The award was given during a military investiture ceremony where soldiers are given medals for bravery. The award was conferred on behalf of the army by the Army Commander, Northern Command, Lieutenant General Sanjiv Chachra.
It is not uncommon for civilians to be conferred with awards by the Army; these are, however, normally given for acts that in some way related to or have an impact on the service. In this particular instance, awards have been conferred for achievements wholly in the civilian domain to men, women, boys and girls not in uniform, who have exhibited exemplary grit, human qualities, willpower and genuine concern for the less privileged.
Jigmet Urgain, a resident of Ladakh, is a young man whose career in the army was cut short by an unfortunate accident in which he lost his eyesight as well as both his hands. Undeterred by the misfortune that befell him and unwilling to become a liability for society, he immersed himself into various social programmes for uplifting his people. Being well conversant with the problems and requirement of his less privileged brethren, he was able to provide valuable advice to the army in initiating welfare schemes which have proved extremely beneficial to the locals.
Stanzin Padma and Nima Norbo are employed as porters on the formidable Siachen Glacier.
On December, 5, 2012, while operating a trolley, Norbo accidently fell into a 200 feet deep crevasse. Padma voluntarily lowered himself into the treacherous crevasse and physically extricated Norbo in an effort that extended for about 20 hours. Norbo also exhibited exceptional tenacity and grit in remaining calm and composed throughout the ordeal. This was not the only endeavour for the brave and fearless Padma; on May, 28, 2013, two army soldiers were buried alive under snow due to an avalanche. Despite the fear of another 'after-shock' avalanche, Padma put his life to risk, rushed to the site and dug frantically; he succeeded in extricating the buried soldiers alive.
Ms Lal Jan Begum is a widow of humble origins hailing from a remote village in Kupwara district. She has put her heart and soul into the cause of emancipation of widows in a male dominated society. The going was not easy but ultimately her strong personal convictions and dogged determination triumphed. The social welfare activities started by her soon found ready participation of the women folk and have helped improve the lot of the locals. By relentlessly taking up cases with the district administration for providing financial assistance and rehabilitation of widows, Jan Begum is doing a yeoman service to society.
Ms Kamlesh Devi was a young mother of four when her husband Havildar Mohinder Singh attained martyrdom during Operation Pawan in Sri Lanka in 1988. In spite of the onerous task of singlehandedly bringing up her children, she never shirked her social responsibilities and actively participated in various women empowerment schemes in Rajouri and its adjoining areas. Her consummate commitment towards the uplifting and empowerment of women motivated other women of the area to participate in various social welfare activities.
Master Sohail Khan is a Class X student of Army Goodwill School (AGS), Buniyar of Baramulla District. In spite of limited facilities available to him, Sohail has the ambition of becoming an Air Force pilot and it is this dream of his that makes him put his heart and soul in his studies. His sustained efforts bore fruit when he secured first position in Class X exams and did his parents proud. The Army Commander has not only felicitated him for his hard work but has also gone a step ahead in presenting to him a wrist watch.
If Sohail is an inspirational model for boys, Ms Afrooza Aziz can certainly qualify as a role model for girls. A resident of Chandigam, a remote village of Lolab in Kupwara district, Afrooza is a student of AGS Chandigam. As her parents are barely literate, she realises the value of education and has dreams of pursuing higher studies. She also knows that due to financial constraints she can only achieve her ambition by excelling in academics and this has been the driving force which has helped her top the Class X exams. The crowning glory of her spectacular achievement is the fact that she is an all rounder, both in the field of academics as well as co-curricular activities.
In recognition of the stellar and inspiring role played by the aforementioned ordinary citizens of Jammu and Kashmir which have resulted in extraordinary achievements the Army Commander felicitated them with awards and honour. This is a noteworthy decision by the army in Jammu and Kashmir that will motivate and inspire many more towards achieving excellence and also towards discharging their moral responsibilities for betterment of society. It is hoped that this initiative will soon be replicated by other groups and organizations in the state in a manner that gives impetus to the underprivileged and assists in removing the scars of terrorism. If anybody deserves a prosperous future it is the people of Jammu and Kashmir and any effort directed towards this end is laudable.