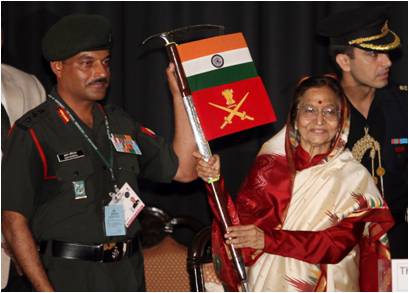 Defenceinfo Bureau Report
It took one full year of training and two phase selections, one at Siachen Base Camp and the other at Manali, to find and prepare the final team of seven women and ten male climbers along with the support staff to scale the mighty Mount Everest.
The Indian Army Women Everest Expedition, which was launched on March, 12, 2012 ,was finally flagged in by President Pratibha Patil on 03, July, 2012. The expedition has created history by putting seventeen climbers on top of Mount Everest on May, 25 and 26, 2012. One of them, Subedar Rajendra Singh Jalal climbed the peak without using supplemental oxygen, the first Indian Army man to do so.
The Army team attempted to reach the summit on May, 19, 2012, but was forced to come back to base camp due to hostile weather conditions and heavy winds en-route. The team started again from Base Camp on May, 23, 2012 to make their second attempt to reach the summit and this time they succeeded with flying colours. All seven women and ten men of the team stood atop Mount Everest proudly. Major N Linyu and Captain Smitha became the first women from Nagaland and Karnataka respectively to have climbed Mount Everest. Apart from marking these records, the team has brought accolades and enhanced the image of the country.