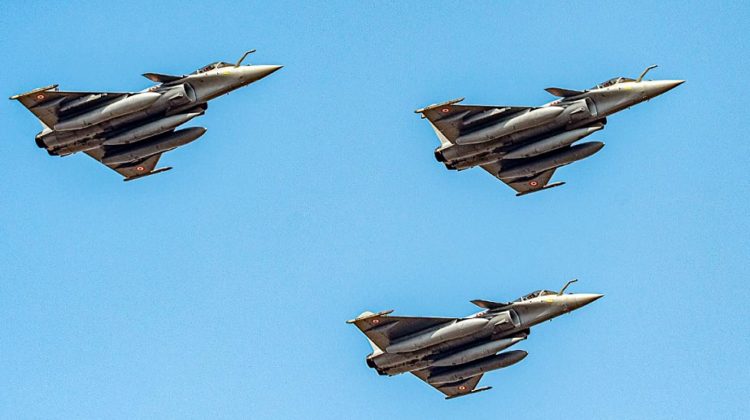 Maj Gen C P Singh, (Retd)
The fourth largest operational Air Force of the world, Indian Air Force 'Touches the Sky with Glory' as it celebrates it's Raising day on 08th Oct 2021. They deserve a 100 gun salute from the 130 crore Indians.   Interestingly, IAF has taken their motto "Nabham Sparsham Deeptham" from the eleventh chapter of Shree Bhagvad Gita and always lives up to it. The Indian Air Force employs over 1,400 aircraft and about 170,000 personnel, for standing tall as the 'Sentinel' of the Indian Aerospace.
Indian Air Force Day is observed every year on October 08.  On this glorious day in 1932, the Air Force was officially raised in India, as the supporting force of the Royal Air Force of the United Kingdom. The Indian Air Force (IAF) is the air arm and a crucial instrumentof power projection of the Indian Armed Forces, which has played a battle winning role in all the wars, fought by the country.
 Global Geo-Political Environment
In the contemporary global geo-political environment, a nation's power is increasingly determined by its economic might and military strength. Though these are mutually dependent on each other, the most crucial is economic power, without which, none of the other instrument of power can be created or sustained. However, it's also true that economic growth is not guaranteed without the protective cover of military power, under which the economy flourishes in the nation.
We cannot look at the world through single prism, because each nation and each region is faced by its own set of challenges. India is situated in a turbulent part of the continent. Its size, resources, capabilities and growth also endow it with power, visibility, influence and responsibility for a greater role in regional affairs.  In a more integrated and interdependent world, the spillover of conflict in the neighbourhood and its negative global consequences makes it everybody's concern. The task of India's defence would continue to pose major challenges due to it's geopolitical relevance in South Asia and Indo-pacific region. The nuclear armed, unstable neighbourhood of India further enhances its security concerns.  Every conflict since World War II has seen an increasingly bigger role of air power. Therefore, we need to define a future for aerospace power that is relevant to our conditions and environment.
21st Century Warfare
Almost all future conflicts are likely to be short and intense; more challenging & unpredictable, requiring a capability for assured, clean, swift, calibrated, varied and flexible responses and a transportability of national power in all forms. It is here that Air Power will provide the crucial edge, due to its agility and inherent flexibility. It is aerospace power that intrinsically possesses the characteristics that enable such responses.  Modern aerospace capabilities have as much, or perhaps greater impact on the favourable outcome of future battles.
Aerospace power has a more universal applicability. That is why even armies and navies strive to assimilate organic aerospace capabilities. Recent technological developments, including the synergy of air & space, have enhanced aerospace force exponentially, making it astonishingly reliable, effective, clean and responsive. Hence, it's now  the 'preferred instrument' of military response, in most situations of peace or war.  Aerospace power is empowering and futuristic and easily lends its strengths and capabilities to other disciplines. In the Indian context, all forms of military power are necessary and important. However, strategic aerospace power offers newer dimensions, both for our northern concerns, as well as for our blue water projections.
In the future conflicts, a stealthy, supersonic, semi-autonomous sixth-generation fighter maneuvers undetected through heavily armed enemy air space, evades radar detection to jam the adversaries command and control systems with EW weapons, gather, analyze and transmit targeting data across huge areas of terrain in milliseconds using AI-empowered computing, launch and operate groups of nearby mini-drones, fire air-launched hypersonic missiles and then incinerate enemy aircraft with fighter-jet fired precision laser weapons all while flying too quickly and stealthily to be targeted. That will be the power of technology loaded airpower platforms, which will favourably tilt the scales in the battle zone.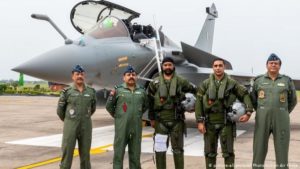 The mighty Air Warriors 
 Pivotal Role of Airpower in Future Conflicts 
History has repeatedly confirmed that air power is decisive in conflict, and there can be little doubt that "Aerospace Power" will certainly dominate the battlefield. Airpower has been undergoing a steady process of transformation and major drivers have been the quest for low observe-ability (or stealth) and greater precision in weapon delivery. The effectiveness of airpower has thus seen manifold enhancement, in the process of rapid evolution of Air warfare.
Role of airpower will certainly be enhanced in the future conflicts. The air power will be increasingly used for power projection, deterrence, coercion and in more innovative roles even by those possessing modest air forces. The vital roles of air power in future warfare will include:-
(a) Enhance transparency of battlefield.
(b)   Information dominance.
(c) Intra and inter theatre switching of forces for inherent flexibility and surprise.
(d) Deterrence through punitive destruction.
(e)  Conflict Termination on favourable Terms.
 Growth of Indian Air Force (IAF)
In its 76th year, the IAF with its fine combination of Air Warriors, machines and ethos has proved itself mettle, time and again. The IAF's roles can be described as Deterrence, Punishment, Protection, Projection and Peace-time roles. Status of the Force and strength of the economy have boosted our International Defence Cooperation, including assistance to friendly countries. Trans-continental reach has enabled exercises with friendly Air Forces on all Continents, which is an excellent way to train, assimilate best practices and strengthen bonds of fraternity. IAF's uniqueness lies in its rich all-terrain experience and its diverse inventory. Its capability and reach have enhanced significantly in the last decade. Given our situation, concerns and aspirations, a strong and comprehensive aerospace capability is inescapable.
The growth of   Indian  Air Force has remained intimately linked with India's evolution as a nation state. India has made  slow but steady progress graduating  from somewhat utopian ideologies in the early 1950s   to the harsh world of real-politick in 21st Century. Since IAF requires a comprehensive capability, its future in the long-term, will largely mirror the future of aerospace power in the global arena. Though this path is invariably influenced by leading nations, India   must be selective and seek creative variations, both in terms of hardware and doctrines.
Keeping pace with India's aspirations to be a super power, Indian Air Force needs to be  expanded to a 60 combat‐squadron force along with induction of . AWACs, air refueling tankers, cruise missiles and  UAV/ UCAVs etc.   In short, nurturing of a modern high‐tech airpower is unavoidable if India wishes to face it's challenges, in the future. It will, however, be possible if India also builds a robust aerospace industry capable of designing and developing state‐of‐the‐art equipment and aircraft. New beginnings have been made towards aerospace industry development under 'Atmanirbhar Bharat' initiative.
Conclusion
India's ascent in the world order and it's credentials as a rising super power  are well established. Leading nations of the world, today, want to engage with India and probably seek to include us in their friends list. Smaller nations and neighbours look up to us for protection, training, logistics support and disaster relief. UN commitments are also considerably increased. We have to seize these opportunities to   build Indian influence, generate goodwill and reap multiple dividends for image enhancement.
IAF is the sword arm of the mighty India. A strong and professional IAF can contribute to national options and to   power projection, not only within the region but also the entire world. The IAF, with its current capability and future plans has the potential to make a very significant impact on Indian image as a super power, in the future. IAF must, therefore, grow in step with national aim and ambitions.The IAF has come a long way in exhibiting its   professionalism and the world has acknowledged it with standing applause. The nation salutes the courage and valor of Air warriors and says-
(The author he is a social activist, career consultant and a motivational speaker. E-mail – www.majgencpsingh.com)