Col Alok Mathur, SM ( Veteran)
31 August 2021 is a watershed in the history of Afghanistan when the Taliban is poised to rename the country as the Islamic Emirate of Afghanistan (IEA). The white Taliban flag will replace the traditional Green, Black and Red National flag.
The United States (US) President Joe Biden had categorically stated time and again that " the United States troops will vacate Afghanistan by 31 August 2021." The Taliban had also warned US that its forces should adhere to the schedule and should not delay the withdrawal. Now the US drawback is complete, the Taliban is in full control of Pakistan and poised to form a legitimate government.
Hibutullah Akhundzada is the current supreme leader of the Taliban. Mullah Abdul Baradar is the deputy chief heading political mission and external affairs, Mullah Mahmood Yakoob, son of Mullah Omar, is the Military Commander in chief and fourth in the hierarchy, Mullah Abdul Hakim is the chief of Judiciary and legal head of organisation.
Hamid Karzai International Airport of Kabul a 3×3 km zone is the last bastion of US Armed Forces controlling incoming and outgoing flights used for evacuation under approval of the Taliban. No one can reach the airport unless cleared by Taliban Check Posts. Entry inside the airport Terminal is controlled by a US Task force. Almost all embassies except Iran, Qatar, Pakistan and China have closed down.
Taliban (meaning student in Pashto dialect) emerged as militant group in the early 1990s in Northern West Pakistan, to replace Mujaheddin following the withdrawal of Soviet Troops from Afghanistan. It was a Pashtu movement financed by Saudi Arabia to propagate hard line Sunni Islam. Mullah Omar was the head of the Taliban and Abdul Ghani Bradar was the co-founder. The main objective was to control Afghanistan and West Pakistan and enforce Shariat or Islamic law. Kandahar has always remained a stronghold of the Taliban and gradually they captured the province of Herat bordering Iran. It is coming to power for the second time.
China has already offered a financial and diplomatic assistance package to the Taliban and has established communication. Pakistan Prime Minister Imran Khan has invited the top Taliban leadership to Islamabad and offered an olive branch. Iran has also shown a pro-Taliban affiliation. The US has appointed Zalmay Khaliljad as its representative and he has met delegates of IEA at Doha. During the drawback, CIA was holding covert negotiations with IEA to permit US and allies to reach Kabul Airport.
India has always maintained harmonious relations with Afghanistan even during first Taliban regime in 1990s. Our projects in Afghanistan are basically infrastructure oriented like Dam building, road construction, school buildings, Afghan Parliament edifice and other social and cultural exchange programmes.
The main pillars of New Delhi's Afghan policy are to check Pakistan's influence in Afghanistan; deny manipulation of the Taliban by ISI against our own strategic interests; gain access oil rich Central Asia and ensure that the Taliban does not focus towards Kashmir.
World opinion is preventing India from taking a bold step to engage with Taliban. The wait and watch policy may backfire once the Taliban firms in to the corridors of power. We should have sent a delegation to Moscow when Russia was dealing with Taliban but we did not do so. A low level negotiation was executed in Doha which at least ensured safe return of Indian citizens and also of Afghani national Hindus and Sikhs of Indian origin.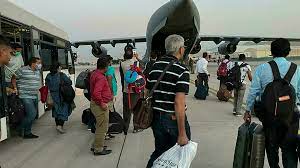 Operation Devi Shakti in progress
Now Operation Devi Shakti to extricate the Indians from Afghanistan is underway. IAF has deployed   C-17 Globe Master at Tajikistan to evacuate Indians from Kabul .Till 24 August, almost 700 Indian and Nepalese citizens have landed in Hindan and Jamnagar Air bases. Till a week back about, 1000 Indians are stranded in Afghanistan, movement is on but with great secrecy and sensitivity.
The main objective for India is to protect her strategic interest and not totally isolate herself from Afghan developments.  We have to be flexible and ensure safety of Indian nationals and assets created for welfare of Afghanistan people, who consider us as friends. We cannot stop Taliban from implementation of Shariat customs and laws. Let them follow their policy to deal with their own population.  We have to make sure there is no Kandahar again. It is a difficult task but we should face the reality.
In the near future India needs to remain in communication with Taliban leaders like Sher Mohmad Stanikzai, who was trained in IMA and has soft corner for India. He is the current head of the political office in Doha, Qatar. He has conveyed through sources that the Taliban has no enmity with India. A positive response from India is expected.  Indian Embassy in Kabul should be reactivated. ITBP Team should remain for security purpose. All development projects should be manned and completed with approval of Taliban. A Field Hospital with strong medical team with adequate medicines and one lakh doses of COVID vaccine should be dispatched to Kabul. Rations and other necessary humanitarian aid can be supplied to overcome food shortages.
While doing the foregoing India needs to ensure that the Taliban Government will not permit any anti India activities by terrorists groups from Afghan mainland and nor will it give assistance to anti-India terror organisations operating from Pakistan like the Lashkar-e-Toiba.  India should not go for any military intervention, but must keep options open.
British tried to tame the Afghans in early 20th century but did not succeed. USSR moved in 1979 and finally had to quit with heavy casualties in 1989 and US armed them. Op Enduring Freedom was launched in 2001 by US and allied troops to take revenge of 9/11; they also have haven given up. A firm decision has to be taken and India has to play an important role in Afghanistan It cannot not watch from side lines and see all of its assets dismantled.