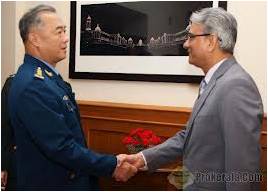 Defenceinfo Bureau Report
India and China held the fifth annual defence dialogue (ADD) at Beijing on January, 14, 2013. The talks assume significance in view of the decision taken to resume joint military exercises and expand military exchanges. It may be recalled that militaries of the two nations had conducted joint anti-terrorism exercises in 2007 and 2008; the initiative was stalled when China started issuing stapled visas to residents of Jammu and Kashmir and refused to sanction an official visit to country by the Army Commander of the Indian Northern Command, Lieutenant General BS Jaswal, on the ground that he was commanding forces in the "disputed and sensitive" region of Jammu and Kashmir. The two neighbouring countries have now agreed to, "advance mutual strategic trust and enhance mutually beneficial practical cooperation,"
Both sides also reviewed ongoing measures to ensure peace and tranquillity on the line of actual control (LAC) "since this is a strategic understanding between the two governments".
It is significant that as China stands on the threshold of leadership change it has evinced keen interest to deepen defence ties with India. The Chinese delegation has emphasised its commitment to good relations between the two countries for mutual benefit as also for world peace and security. "China and India relationship is one of the most important bilateral relationships for China. China sincerely hopes to become a strategic partner of India based on equality, mutual trust, mutual learning and cooperation", said Lieutenant General Qi Jianguo, Deputy Chief of General Staff of PLA who led the Chinese delegation for the talks.
The two countries have also established consultation and coordination mechanism to deal with borders incidents arising out of the patrolling of the disputed areas.
Defence Minister AK Antony is expected to visit China later this year after the newly elected Communist Party of China (CPC) General Secretary takes over the administration on retirement of President Hu Jintao.
India and China over the years have developed a multi-layered dialogue mechanism to improve relations on all fronts. While the defence dialogue between the leaderships of the forces emerged as a key forum for direct dialogue between them, a host of issues are being addressed by the special representatives.