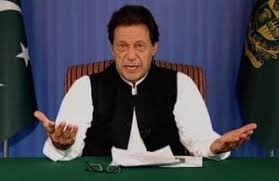 Dr. Simrit Kahlon
What will be Imran Khan's foreign affairs policy? This good question comes with a corollary – will Imran Khan have a foreign policy at all, knowing full well that he would have no authority to implement the same?
In his first speech, the Prime Minister of Pakistan has chosen to highlight domestic issues, and rightly so, considering the challenge that he faces in turning around a hopeless financial and internal security situation.  His offer for personal austerity and appeal to curb government spending is indeed commendable, but it will not be enough to pull his country out of the morass that it is presently mired in. At the macro level what needs to be curbed is defence spending which looks to be quite impossible, the other initiatives can have only a cosmetic effect! The only positive flowing out is that the new government for "Naya Pakistan" is at least exhibiting a will to change the narrative.
Shah Mehmood Qureshi, the foreign minister of the new government of Pakistan has never been known for a pro-India sentiment and is hawkish in his approach to foreign engagement. He has declared that the, "foreign policy (of Pakistan) will begin and end with the national interests of Pakistan." A noble thought, but, are we looking in foreign policy towards the interest of the nation or the interest of its Army as has been the case always and is well known to Qureshi.
For neighbouring India it is important to see how the new Government of Pakistan will respond to the festering issues that are not allowing peace to prevail in the sub-continent. Imran has promised to take two steps forward towards peace if India takes one. Well! India has taken the first step with Prime Minister Narendra Modi ringing up Imran and speaking about a joint effort for ushering peace and development in the entire neighbourhood, so, will Imran now initiate his "two steps" for the sake of "national interest" or will he bow down to those elements in his country that look upon India as an enemy to be kept perpetual engaged in a proxy war?
It is axiomatic that India holds the potential to assist Imran in his aspiration to build his nation economically. There is a huge margin of improvement of relations between the two countries, especially in the sphere of economic intercourse. Even a novice in foreign policy would go for peace with India; at the very least, a manageable relationship marked with curbs on the export of terrorism to India can lead to great strides in the relationship between the two countries. But will the present government in Pakistan do so? More relevantly, will it be allowed to do so? Imran Khan is wise enough to understand the consequences of nurturing a definition of "national interest" that is not "Okayed" by "the establishment" (Pakistan Army). One can hardly expect a sophisticated and mature politician like him to make a mistake in this regard.
In the larger sphere lies Pakistan's relationship with the United States and China. Will Pakistan go deeper into the stranglehold of China or will it gravitate towards the more moderate and democratic United States, that has been an abiding ally since the inception of the country?  The second option is obviously the better one!
Khan has already stated that he would look forward to a "mutually beneficial" relationship with the United States. The point being lost here is that the US, especially under President Donald Trump, also adheres to a national interest first foreign policy. America's interest lies in Pakistani assistance in neutralising Afghan Taliban and in putting a lid on the activities of the domestic fundamentalist war lords who enjoy the support of the establishment. America has, on many occasions, insisted upon Pakistan stopping the export of terror to India. Can Imran pull this off and win over American support?
The ace that Imran Khan holds up his sleeve is the tottering state of the economy that he has inherited. He has ample reason to guide his foreign policy towards any direction that provides to him a window for ushering economic stability. He needs more exports and more foreign direct investment. These can come mostly from the European and American markets. He has a window of opportunity to get out of the stranglehold of 'the establishment' by leveraging this aspect to gain influence in the foreign policy narrative of his country. In case he fails to do so it will be China all the way and that is the best way to convert his nation into a colony yet again.
India does not hold much expectation from Imran Khan or his government so far as bilateral relations are concerned. Khan's proximity to the likes of Hafiz Saeed and other militant organisations that are directed against Kashmir is well known to all. The Indian media, in particular, is bound to keep a close watch on the policies of the PTI led government in Pakistan and each negative step will lead to belligerent and sensationalist analysis. Imran Khan will need to be sensitive about this and ensure that a war of words does not spoil the pitch altogether.
It is hoped that Imran Khan will display the requisite foresight, leadership and statesmanship required to bridge the gap between India and Pakistan, which is in the larger interest of Pakistan. It is not simple and will require great courage of conviction, but, in case he manages to smoothen out the "ifs and buts" that mar relations between the two nations, he can change the course of history. He can rest assured that India will be more than forthcoming for any such initiative as it has been all these years. In case Imran cannot go so far due to his own compulsions then the least he can do is to ignore India and concentrate on the bigger task at hand of saving his own nation from collapse. India would not mind that too!
(Dr. Simrit Kahlon is an academician and a Geo-political analyst)