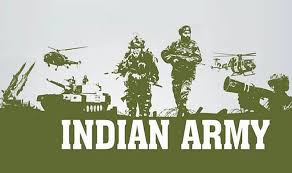 Brig PS Gothra
"Don't join Army or if you do, don't get married," said grandmother.
"Dadima, are you afraid that I will get killed? Or do you hate Army otherwise?" asked Sanjay. He had always been teasing her. But today he was seriously seeking her permission as he had qualified in the test for technical stream to join Army.
"No, I am not afraid. One can get killed anywhere. If I were a male, I would have loved to join army. But then I wouldn't have got married. The army has given us so much. But I am against your joining because you are going around with that beautiful girl. I don't want her life to be spoiled by your joining the army."
"Dadima, I have never been able to understand your confusing stance."
"Sanjay, your grandfather was in the Royal Indian Army. During World War II, we got the news that after a Japanese attack he is not traceable and presumed to be dead. Lot of people were taken prisoners by the Japanese and they had joined Azad Hind Fauj. Some of those people were communicating with their families. We found that your grandfather was not among those. After ten months my parents-in-law, on the advice of relatives, decided that I should marry my brother-in-law through a Chaadra ceremony. It used to be a truncated marriage ceremony for the widows where the male used to put a Chaadar (veil) on the female to make it known to one and all that she is his responsibility."
"How old were you?"
"I don't know but at that time I had three children that is your father and two aunts."
"It had your consent?"
"No, everyone presumed that I should have no objection. A day before the ceremony my brother-in-law's wife told me about the plan. She pleaded that we have had good relations so far and my sharing her husband will lead to all the acrimony among us. I agreed with her and created a scene. As a result, everyone was unhappy with me. The family was worried that due to my prime youth I may venture into a relationship with some other male. A meeting was called and a stricture was pronounced that I with my children will have to move to the outhouse, vacated by a servant recently and have to carry out all the menial jobs in the house like sweeping, cleaning utensils, cooking and washing clothes. It was a big house with at least thirty-five members so it became tiring," said Dadima.
Sanjay could see the wet eyes of his grandmother. He said, "That was cruel. Your offence was that you lost your husband."
"Still cruel was the fact that they didn't allow my son to go to school when he turned five, because they thought that it will give me an excuse to move out of the house and interact with males. Initially my sister-in-law sympathized with me but later she was also barred from talking to me. I became very lonely. Life was becoming hell. My parents came to me once in a year but because of the social pressure they didn't have the courage to break my shackles. I was almost breaking down but every second day Guru Nanak appeared in my dreams telling me that things will be better. It kept me going for three years."
"You should have run away from the place."
"I thought of running away so many times but the thought of children losing inheritance prevented me from doing so."
"I am sorry Dadima for teasing you all these days. But my father and the Aunts are well educated how did it happen?"
"All these days a number of males in the village and within the extended family were trying to woo me into an illicit relationship. I ignored their ogling and advances. One day I was busy cleaning utensils. Those days we were using ash to clean the utensils. Someone came and stood in front of me. He was wearing military boots. I avoided looking at his face and kept working because I thought it must be one of those boys masquerading as army man to give another try to foster illicit relationship. But I saw him standing there even after three minutes. I got fed up and hit him on his leg with a utensil and screamed, "Go away."
I got a shock of my life when that person said, "How can I go away? For you I have crossed seven seas and fought the Japanese and escaped their custody. I thought someone is masquerading as your grandfather. I looked up and saw it was him only, but he was in a very bad state," said Dadima and took a sip of water to wet her throat.
She continued, "A shiver went down my spine. It had been four long years since I had been living the life of a widow, widow of the man standing in front of me. For a moment, everything froze. In one stroke of luck I became a married woman, from an ostracized widow. I got up and hugged him, to feel my living, breathing husband. My ash smeared hands dirtied his uniform, probably telling my husband the tales of all the atrocities I had faced during all those years of separation. My husband could read our situation, which was amplified and made evident from the old and torn clothes me and my children adorned. I couldn't help myself from crying and screaming, asking him why he ever left us. I was both happy and angry with him."
"Dadima, did he say 'I love you'"
"Those days you couldn't say that in public. All he said was 'You have spoiled my uniform'."
"So, you felt sorry?"
"No, I just angrily said 'Is it'. Because all the pains I had undergone was keeping the pride of his uniform intact. However, the life changed after that. But the memories of that bundle of miseries never left me. Soon my children also forgot about this and I never refreshed this because I never wanted them to develop disrespect for their grandparents. But today I feel relieved after narrating this story to you."
Sanjay took Dadima's hand in his hand and said "Dadima I promise I will not join Army."
She feebly said, "Go ahead join the Army, society has changed." He could feel her hands getting cold.