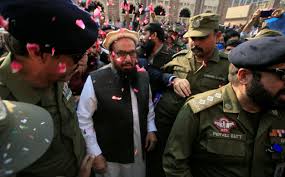 Vikas Khanna
The international terrorist Hafiz Saeed has been repeatedly thumbing his nose at the Pakistani establishment as well as at the United States, but Islamabad remains obdurate in not taking any action against him. Some news items of the possibility of his organizations being taken over by the state are doing the rounds. Even a child can understand that these are planted news to stave off US pressure on the Pakistani establishment on the issue.
On several earlier occasions, the US expressed its displeasure and concern, and nudged Pakistan to arrest and charge Saeed for his crimes, but Pakistan has chosen to look the other way. What is it that is preventing Pakistan from booking Saeed even at the cost of breaking ties with the US?
There can be only two plausible reasons. Either Pakistan is impotent and afraid of the might of Saeed or it is a well-thought out plan of action to get even with its now estranged ally.
Saeed, who carries a $10 million American bounty on his head for terror activities, is a U.N. and United States designated terrorist. Moreover, India has blamed him for the 2008 Mumbai attack that killed 166 people, including six Americans.
The ties between Pakistan and the US had started straining during the Barrack Obama administration. Now, Pakistan has been at the receiving end on the Saeed issue ever since the Donald Trump administration took over in January last year. "We will defeat radical Islamic terrorism when I'm president. We will stand shoulder to shoulder with India in sharing intelligence and keeping our people safe mutually," Trump had said during electioneering.
And true to his words, one can notice a paradigm shift in the new US dispensation as far as the battle against Islamic militants is concerned. From here onwards, one can expect a no-nonsense US policy on terrorism which has become a major cause of worry for Pakistan, since the country continues to host several militant groups hostile to both India and the US.
Pakistan has been recipient of more than $33 billion in aid since 2002. And it has done precious little to rein in militants and terrorists. The US frustration seems to have reached the point of no return as President Trump in his August address said: "We have been paying Pakistan billions and billions of dollars at the same time they are housing the very terrorists that we are fighting." Since then, he has dispatched his top diplomatic and military advisors to Pakistan — Secretary of State Rex Tillerson and Secretary of Defense Jim Mattis – who read out the riot act to senior officials of Pakistan.
Unlike his predecessors, there is an increasing likelihood of Trump seeking to reshape the decades-old policy towards Pakistan by linking US aid to its commitment against terrorism. There are fresh reports that the US administration is considering withholding $255 million in aid to Pakistan. Though a pittance, the message is loud and clear that the US is dissatisfied with the obstinacy shown by Pakistan in not taking substantive action against terrorist networks that continue to flourish there with full support of the administration.
But thus far, Pakistan does not seem to have been rattled by such warnings. On the contrary, not only did it free Saeed from the so-called "house arrest" with the lame excuse that the Lahore court did not merit his detention, it went on to justify his release. To rub salt into the wound, its foreign office spokesperson Mohammad Faisal said that Islamabad was committed to the implementation of United Nations Security Council 1267 sanctions regime on terrorists and had taken several steps in this regard.
If that was not enough, Pakistan allowed Saeed to open the first office of his political group Milli Muslim League (MML) in Lahore. Saeed has also declared his political ambitions by announcing that his organization, Jamaat-ud-Dawa, would contest the 2018 general elections under the banner of the MML. Ironically, even according to Pakistani government records, the MML is the offshoot of the banned Lashkar-e-Taiba (LeT) and JuD. In fact, Saeed was showered with flower petals as he openly toured several areas in full public glare.
Can it happen in any civilized country that UN-designated terrorists are allowed to roam free? But anything can happen in a rogue country like Pakistan which even allows a terrorist group to launch its political party and let it contest the elections. The MML-backed candidate had secured the fourth position with 6,000 votes, double than that of Pakistan People's Party (PPP) and Jamaat- i-Islami combined in a by-election in Lahore's NA-120 constituency last September. The seat had fallen vacant when the then Prime Minister Nawaz Sharif had to resign, following his disqualification by Pakistan's Supreme Court.
It is hard to digest that Saeed would have been allowed to open the office of MML without the consent of the government of the day and that too when the US had expressed its strong concerns and said in a statement that it hopes Pakistan "does the right thing" in not allowing that to happen.
It is an open secret that Saeed has the full backing of Pakistani army which has been at loggerheads with the government. The question then arises whether Saeed has the tacit support of the Pakistani establishment or it is too afraid to take action against him as he is being backed by the army? Pakistan Army chief Gen Qamar Javed Bajwa came in full support of the Mumbai terror attack mastermind when he appeared before a parliament forum last month and said that Saeed, like every other Pakistani, had the right to raise the Kashmir issue. It is a known fact that the army enjoys far greater power than the elected government in Pakistan and no government can afford to go against the wishes of the army. Whatever may be Pakistan's reason to prop up Saeed, but one thing is certain. Pakistan is in for a rude shock in the coming months.
(Vikas Khanna is a senior Journalist and Author)