Defenceinfo Bureau Report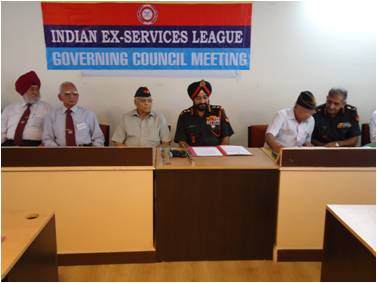 The Army Chief, General Bikram , attended the General Council Meeting of Indian Ex-Services League (IESL) held on July, 26, 2012. IESL is the apex organisation of ex-servicemen of the country recognized by the Government of India.
On arrival, the COAS laid a wreath on the statue of late Field Marshal KM Cariappa in the IESL compound. In his address, the COAS emphasised the importance of veterans; he said that they were the foundation of the Armed Forces and the foundation cannot be allowed to be weak. He added that all matters affecting the veterans and war widows were very close to his heart and formed a part of his key result areas. The Chief clarified that since 2012 has been declared 'The Year of Veterans', he has initiated a process for revitalising the mechanism to address the grievances of veterans. He also said that the Government was very positive towards improving the life of the veterans and a committee under the Cabinet is looking into the issues; the three service chiefs have put across their points and are going to have another interaction soon, form which, he was hopeful of a positive outcome. He stressed that the issues of veterans can only be solved by the joint efforts of both the veterans and the service headquarters.