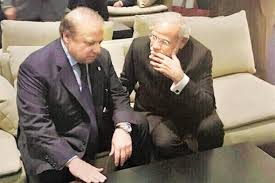 Vikas Khanna
The lightening speed with which India-Pakistan talks have traveled is amusing if not baffling. Can a less than three-minute conversation between prime ministers Narendra Modi and Nawaz Sharif on the sidelines of the Paris climate summit change the atmospherics so much that the two countries would agree to composite dialogue within 10 days? How can a government, which takes offence to Pakistan high commissioner to New Delhi hosting Kashmiri separatists, take a sudden 360-degree U-turn? What has happened in between that the Modi government decided to expand the scope of bilateral dialogue from terror-specific talks? There is something more to this sudden development which meets the eye. Is there a nudge from some foreign power? Any guesses? Will the government come clean on it?
Questions are being asked whether the Indian government has conceded too much and too soon? Has the government smelt something which others have not? Has Pakistan created a positive atmosphere warranting a "composite" dialogue? There does not seem to be any prevention of infiltration attempts from across the border. Terror activities continue unabated in Jammu and Kashmir, not to talk about the on-off border skirmishes.
It will be interesting to know whether Pakistan has committed to India that it will look seriously into the concerns of New Delhi. Will it fast-track the 2008 Mumbai blasts trial and bring the guilty to book? Will it not allow its soil to be used by terrorists whom it continues to shelter at its backyard against India? Will it take action against people like Hafeez Saeed, who India considers to be the mastermind of the Mumbai blasts, by arresting him and not allowing him to spew venom against New Delhi? Why terrorists like Syed Salahuddin continue to be feted by Pakistan? Will Pakistan stop denying the presence of Mumbai blasts' main accused Dawood Ibrahim in its country? These are some of the crucial issues on which India wanted some progress before full-fledged talks could be resumed. Has there been any forward movement on any of the abovementioned issues? There are serious doubts.
Some of the fundamental questions remain unanswered. All through, Prime Minister Modi government had been maintaining a very hardline approach vis-à-vis Pakistan. In fact, it came under criticism for abruptly cancelling the National Security Advisers meet early this year, for it wanted to discuss terrorism only while Pakistan was opposed to restricted talks and wanted the scope of the talks to include Kashmir. In reality, the Modi government was incensed at the decision of Pakistan entertaining Kashmiri separatist leaders. Why the hullabaloo over such a meeting? In the past, Kashmiri separatist leaders have met Pakistani leaders whenever they visited India. Pakistan high commission to New Delhi has been regularly hosting them on Eid. Everybody knows that Kashmiri separatists are nothing but proxies of Pakistan.
In fact, Mr. Vajpayee also had a meeting with them while he was trying to find a peaceful solution to the vexed Kashmir issue in 2009. So, what is the big deal if they meet any Pakistani leader or any official? Today, the Hurriyat leadership has lost its relevance in Kashmir as successive state elections have proved. The participation of people in the elections has increased over the years despite Hurriyat's poll-boycott calls. Gone are the days when its writ used to run in Kashmir Valley. Today, its influence has been restricted to a very few pockets in the Valley. Moreover, it has been considerably weakened following numerous splits in the past. Therefore, it hardly matters who they meet? India-Pakistan relations should not be seen through the prism of Hurriyat.
Is the sudden volte-face by the Modi government in dealing with Pakistan an admission of defeat of its policy? The hawkish stand taken by India on Pakistan since Modi came to power last year has proved to be counter-productive. It might have increased his standing among his hardcore followers in India but it certainly did not enhance his position at international level. Modi was increasingly being seen as a wanting to isolate Pakistan while reaching out to other countries. Has the reality dawned on Modi and his top bureaucrats that his ambitious plan to enhance regional cooperation will not materialize as long as India-Pakistan relations remained frosty?
The fact of the matter is that over the last few months Pakistan's stakes have gone up after it facilitated talks between Afghanistan government and the Taliban. The US and other NATO countries have deep interests in Afghanistan as they want to pull out of the war-torn country but not before restoring a semblance of normalcy. Pakistan, which pulls strings of several militant groups, has a pivotal role in Afghanistan. In fact, the US President Barack Obama has gone on record praising the role of Pakistan in Afghanistan when Sharif called on him in Washington in October this year. A joint statement after the meeting said "President Obama affirmed Pakistan's role as a key counterterrorism partner and recognized the sacrifices that Pakistani civilians, military, and law enforcement personnel have made over the years as they confront terrorism and militant groups."
Is it a mere coincidence that both the countries went into a diplomatic overdrive after Nawaz Sharif expressed his desire to hold unconditional talks with India during his meeting with British Premier David Cameron on the sidelines of CHOGM meeting in Malta last month?
(Vikas Khanna is a senior Delhi based journalist)