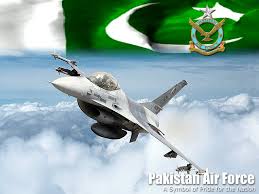 Vikas Khanna
Over the years, the US has been found vacillating in its approach towards Pakistan. The US' public posturing does not match with its actions. Its decision to sell $700 million F-16 fighter jets to Pakistan has not only riled India but divided members of the US' Congress as well.  The lame duck President Barack Obama administration's decision to go ahead with the proposed sale despite lawmakers' concerns about Pakistan's nuclear proliferation programme and its not-so-convincing commitment against the war on terrorism defies all logic.
President Obama alone cannot be faulted as his predecessors also followed the same ambivalent and ambiguous policies towards Pakistan. Slam Pakistan to please India and then pamper it with billions of dollars in cash and military equipment is how one can sum up the policy of Washington.
On December 22, 2008, the then Pakistani National Security Adviser Mahmud Ali Durrani was summoned to Washington and was told tersely that its "shifty and shifting position on the Mumbai attacks" was unacceptable. And just a week before Durrani got the dressing down, the then US Secretary of State, Condoleezza Rice, in a speech at the Council on Foreign Relations said "you (Pakistan) need to deal with the terrorism problem. And it's not enough to say these are non-state actors. If they're operating from Pakistan, then they have to be dealt with," referring to Pakistan's failure to arrest those responsible for the Mumbai attacks.
Has Pakistan dealt with the problem of terrorism? Has it withdrawn its support to the non-state actors? On the contrary, the so-called non-state actors have carried out several daring attacks on India and Afghanistan with active support from Pakistan's military and its intelligence agency.  Pakistan itself has brazenly admitted its support to militant groups fighting its proxy war in Kashmir.
In October 2010, former Pakistani military ruler Pervez Musharraf told the German magazine, "Der Spiegel," that his forces trained militant groups to fight in Indian- administered Kashmir. This was the first time such a senior figure in Pakistan admitted to something which India had been crowing for the last several decades. But Indian concerns were not taken note of as Pakistan was being considered an important ally of the US for its' supposedly fight against terror groups in Afghanistan. But senior US officials had altogether different take on Pakistan's dubious role in Afghanistan.
On September 22, 2011, the outgoing joint chiefs chairman Mike Mullen accused Pakistan's intelligence agency of supporting a Taliban-linked insurgent group which had carried out an audacious attack on the American embassy in Kabul which happened a week ago. He had then commented that "Pakistani duplicity puts in jeopardy not only the frayed US-Pakistani partnership against terrorism, but also the outcome to the decade-old war in Afghanistan." In the words of the then defense secretary Leon Panetta, "Pakistani intelligence is using the Haqqanis and other extremist groups as its proxies inside Afghanistan."
Next year, Obama administration decided to withhold more than one-third of all military assistance to Pakistan worth some $800 million. It included funding for military equipment and $300 million for counter-insurgency programmes.
The relations between the two countries nosedived after the US raided Osama bin Laden's secret compound inside Pakistan in May 2011 without even bothering to inform Pakistani authorities. It could not have been more humiliating than this for any sovereign country. But the US suspected that some elements in Pakistan could thwart its attempts to get Laden either alive or dead.  In fact, in his first interview to "60 Minutes" days after the killing of Laden, President Obama said his administration thought that there had to be some sort of support network for bin Laden. "But we don't know who or what that support network was," Obama added.  The comments reflected the US' frustration with Pakistan.
Surprisingly, the US aid resumed two years later in 2013 when it quietly decided to release more than $1.6 billion in military and economic assistance to Pakistan. One fails to understand what happened in those two years that the US again turned to its so-called ally! Was it because Pakistan had started moving closer to China? Interestingly, officials and congressional aides said ties have improved enough to allow the money to flow again. Even if one were to believe that ties had improved, then what made the US to slam Pakistan again within a year for using militant proxies against India?
In its November 2014 report on "Progress Towards Security and Stability in Afghanistan," tabled in the U.S. Congress, the Pentagon said, "Afghan and India – focused militants continue to operate from Pakistan territory to the detriment of Afghan and regional stability. Pakistan uses these proxy forces to hedge against the loss of influence in Afghanistan and to counter India's superior military."
The Pentagon report certainly was at variance with the Obama administration's new-found love for Pakistan. The Pentagon's critical report came in a year when Narendra Modi swept to power and the Obama administration began viewing Indo-US relationship as "one of the defining partnerships of the century".
As the bonhomie between Modi and Obama grew, the US President once again bracketed Pakistan with Afghanistan and the Middle East and warned that these countries could become safe havens for new terrorist networks. In his final State of the Union address on January 13 this year, Obama said : "For even without IS, instability will continue for decades in many parts of the world — in the Middle East, in Afghanistan and Pakistan, in parts of Central America, Africa and Asia. Some of these places may become safe havens for new terrorist networks."
And President Obama followed it again after the terror attack on Pathankot air base early this January. Describing the terror attack on the IAF base in Pathankot as "another example of the inexcusable terrorism that India has endured for too long", President Obama told Pakistan that it "can and must" take more effective action against terrorist groups operating from its soil by "delegitimising, disrupting and dismantling" terror networks there. A very hard-hitting statement, indeed!
Are President Obama and his administration now convinced that Pakistan has delegitimized, disrupted and dismantled terror networks operating there? Has Pakistan, according to President Obama, taken effective action against terrorist groups to qualify for the renewed military assistance?
What is hard to digest is the US' defence over sale of F16 fighter jets to Pakistan. The US State Department spokesperson Helaena W. White said:  "We support the proposed sale of eight F-16s to Pakistan to assist Pakistan's counter-terrorism and counter-insurgency operations. Pakistan's current F-16s have proven critical to the success of these operations to date."
Who the US is trying to fool with such inane justification? It has been providing F-16 fighters to Pakistan since the 80s. Had Pakistan been using these fighter planes against militant groups, terrorism would have been on its last legs. In fact, these planes are being used against separatist insurgents in the restive province of Baluchistan, in Pakistan's North Waziristan regions. At a time when both India and the US are intensely engaged in fighting the scourge of terrorism, this decision will not go down well with New Delhi, which has rightly registered its strongest protest with Washington.
(Vikas Khanna is a senior Delhi based journalist)