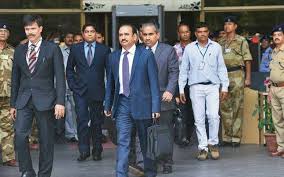 Vikas Khanna
Has India scored a self-goal by inviting Pakistani investigating team to Pathankot? It would be naive to expect from Pakistan to agree to any amount of evidence shared with it in terror-related activities in India. For, any kind of admission will expose Pakistan to be bracketed as a rogue state, inviting harsh sanctions. Therefore, Pakistan cannot be expected to make a complete turnaround from what it has been parroting for the last several decades that it does not allow its territory to be used against any country, more so against India, for terror activities.
As expect, Pakistan's Joint Investigation Team (JIT), which was taken to a guided tour of Pathankot air base, has debunked India's claims that the militants came from Pakistan. Seven Indian security personnel were killed in the attack which continued for almost three days. Pakistani newspapers quoting JIT sources have termed the entire operation "stage-managed" by New Delhi to malign Islamabad. In all probability, New Delhi will lodge a strong protest when the JIT report is made public as Indian investigators earlier claimed that their Pakistani counterparts were stumped when presented with irrefutable evidences.
What will it lead to? The governments of both the countries will start trading charges and blame each other for not being serious in jointly fighting the scourge of terrorism. With such misplaced adventurism, India is to be blamed for finding itself in a corner. The idea of inviting Pakistani investigators to India was ill-conceived in the very first place.  As tit-for-tat sharp exchanges likely in the days to come, the initiative taken by Prime Minister Narendra Modi to drop in unannounced in Lahore on Christmas day to shake hands with his Pakistani counterpart Nawaz Sharif and give a kick-start to stalled talks will go waste.
Modi will be heckled by the opposition for moving too fast to repair badly bruised ties with Pakistan. Already, knives are out even within his party for his style of diplomacy couched in secrecy. The party's senior leader and former Foreign Minister Yashwant Sinha, though now a spent force, was most vocal about Modi's Lahore trip. That Pathankot happened within a week of his meeting with Sharif is a telling commentary of Pakistan's cat and mouse game as far as the fight against terrorism is concerned. The attack once again proves that Pakistani generals are certainly not on board as far as mending relations between the two countries is concerned. Indian claims, if true, that the attack was masterminded and carried out by Pakistan-based Jaish-e-Mohammad (JeM) sums up the story.
Had Pakistan been honest in its intent, it would have by now arrested the head of Jaish, Maulana Masood Azhar, whom India suspects of masterminding the Pathankot air base attack as well as the most daring attack on Indian parliament in 2001.  Instead, it lobbied with China who vetoed India's request to add Azhar in the United Nations' al Qaeda-Islamic State blacklist. China's move is understandable but perplexing as well. When Jaish-e-Mohammad has already been blacklisted by the 15-nation Security Council, so why can't its leader be? It shows that Pakistan does not want any harm to be done to Azhar who it considers to be a very important asset.
It is well known that Pakistan has in place a well crafted strategy of exporting terror to Jammu and Kashmir and onwards to the rest of India. Since 1988, when militancy first reared its head in Kashmir, at least 6,193 security forces have died fighting militants. A Jammu and Kashmir Data Sheets report updated till April 3, 2016 shows that 22,996 militants have been neutralised since then. The figure is alarming as one Indian soldier died as against the 3.71 mortality rate of militants. During the period 14,725 innocent civilians also lost their lives.
While Kashmir was on fire in early 1980's, a vicious campaign was carried out against the minority Hindus or Kashmiri Pandits as they are called in the state. A spate of killings followed persecution and threats by f Pakistani terrorists which led to the exodus of Kashmiri Pundits. Though the exact number of Pandits leaving the valley is not clear, according to conservative estimates, at least 100,000 of them were forced to leave the state. Thousands of them continue to live in the dingy squalid camps set up by the government in the Hindu-majority Jammu.
The separatist movement started losing ground in subsequent years as locals became tired of supporting militancy which had only exacerbated their misery. The last two state elections are testimony to people's disenchantment with separatists as they turned out in large numbers to participate in the democratic process. Several local militants, who felt cheated, also turned themselves to Indian authorities and most of them have joined the mainstream.
This was a major setback for Pakistan. As its overt and covert operations to destabilise Indian part of Kashmir failed, Pakistan began building a new strategy for the various  terrorist outfits which it had created and trained. Its terrorists continued targeting Jammu and Kashmir but extended their reach to other parts of India as well. The Lashkar-e-Toiba and Jaish-e-Mohammad are the main assets being used for this Pan-India extension of terrorist activity.
While offering sympathy to India soon after these attacks, Pakistan routinely struts out its oft-repeated statement that it had not role to play in them and that it could be the handiwork of non-state actors. But who has been hosting those non-state actors? The problem is that the so-called world powers, which often call for a global action against terrorism, have been found wanting in their responses whenever India bled.
Therefore, to expect something unexpected from Pakistan is futile. All these promises of dialogues and cooperation in terrorism are nothing but an absurd pretence intended to create a pleasant or respectable appearance before the international community to escape their censure and economic sanctions. The plain truth is that Pakistan has been increasingly enmeshed in its devious stratagem from which it is hard for it to escape unscathed.
(Vikas Khanna is a senior journalist based in Delhi)