Col Alok Mathur, SM ( Veteran )              
Border Road Organisation (BRO) celebrated its 62nd Raising day on 7 May 2022. Raksha Mantri (RM) Rajnath Singh appreciated the contribution of BRO in nation building and providing the connectivity to its forward troops deployed  in inhospitable and difficult  terrain of  North eastern region bordering China occupied Tibet (COT}, Snow bound Himalayan ranges in Northern frontiers and  International border areas of Jammu, Punjab, and Rajasthan . He highlighted that BRO has created a number of super records such as construction of the World's highest motorable road at Umling La at 19300 feet linking Chumar- Demchok in Eastern Ladakh. It keeps operational Khardungla, Khalsar, Sasoma, Siachen base camp axis throughout the year, It hasInaugurated 44 bridges in single day. It reopened Zoji la in record time in 1999 during Kargil War. Armed forces have high esteem for this pillars of the Nation.
BRO was founded on 7 May 1960 as a leading border road construction company under Ministry of Defence. The motto of the organisation is "Shramena Sarvam Sadhyam" meaning one can achieve everything with hard work.
BRO is a central government department under Ministry of Defence. It is governed by Civil Services rules, However, as BRO  personnel work in inhospitable and difficult terrain, they are authorised additional facilities such as free rations, free uniform, CSD ,free single accommodation, 60 days EL as per Army .
The Primary role of the organisation (Org) is to provide road connectivity in India's border areas in peace and also in War . It also creates, upgrades and maintains infrastructure along borders to meet overall strategic goals of the nation. Apart from road development it also executes maintenance works along Northern, Western and Eastern borders for tactical and operational requirements of Indian Army. It is responsible for entire network of border roads in India.
The total employee strength of BRO is 33,230 including 620 Gp A officers. In operational conditions, they come under AA 1950 .BRO employs 51000 casual paid labourers as per work load and weather conditions. Most of the Road construction labour is from Bihar/ Jharkhand called Dhumks. They are given proper facilities in tune with the Workers Compensation Act. These include medical facilities , accommodation, ex-gratia payment , schools for children ,  safe water, warm clothing, transport to site and back etc .
The equipment used by  RCC includes Heavy and Medium Bull Dozers, JCB Tractors, Graders , Snow cutters, Pneumatic Drilling  Machines , Dumpers, Trippers , Cranes , Recovery Vehicles, Road rollers, Tarmac Layer , Hot mix Plants ,Medium and Light Vehicles, Trained manpower operates them efficiently and safely.
Although BRO is a civil organisation under MOD , their devotion and dedication is beyond words. The honours and  military awards  confirm it ; 23 Kirti Chakra , 220 Shaurya chakras, 2 Padam shree, 16 PVSM ,43 AVSM ,110 VSM, 25 Sena Medal, 3 Sarvottam Jeevan Raksha medal ,17 Uttam Jeevan Raksha medal  and 69 Jeevan Raksha medal.
The headquarters of BRO is located at Seema Sadak Bhavan , Ring road  Delhi Cantt . The current head of BRO is Director General (DG) Lt Gen Rajeev Chaudhary from corps of Engineers of the Indian Army.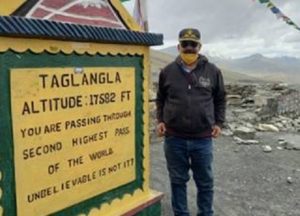 The author next to BRO signpost in Ladakh
Its organisation comprises  Headquarters North, West and East, Task forces ( TFs), Road Construction Companies (RCCs ), Bridge Construction companies ( BCCs), Road Maintenance Platoons ( RMPL) and General reserve Engineer.The officers from Corps of Engineers, Indian Engineering services including few lady officers as RCC commanders are  posted to Border road engineering services.
BRO also undertakes strategic objectives of assistance to friendly neighbouring countries like Bhutan, Sri Lanka, Myanmar, Tajikistan and Nepal. The secondary roles assigned to the organisation  is reconstruction and development work in areas hit by Natural calamities.
BRO operates in form of various Projects. In Border states of India , Union Territories including Andaman Nicobar Islands and also in selected friendly countries. These Projects are basically linking difficult and dangerous border areas with main land by developing roads, bridges, tunnels where Civil private stakeholders are  afraid and reluctant to operate due to high cost , inclement weather, extreme living conditions, super high altitude, Avalanche prone valleys environmental hazards and Insurgency affected remote areas. Many brave Officers and Men of BRO/GREF have lost their lives in service of nation due to Ambushes and Avalanches. BRO presently is operational under 18 Projects.
Project Beacon  was the oldest BRO project initiated in 1960 joining Road Jammu- Srinagar- Zoji La- Leh covering Old National Highway(NH) 1A , NH1B, NH1C and NH 1D.Project Beacon has now been divided in to Project Sampark  covering  Road NH 44 Jammu -Srinagar and Project Himank covering NH 1 Sri Nagar – Kargil -Leh. Another Project was initiated in Sep 2010 called Project Vijayak covering most difficult axis Leh ,Khardung La ( 18020 Feet ), Khalsar, Nubra, Siachen base camp. The interesting part is BRO makes sure that the roads remain open throughout the year, an unusual record .
The second oldest project undertaken by BRO was Project Tusker in 1960 was construction of road/unmetalled track for NEFA region now Arunachal Pradesh covering Tezpur, Misamari, Char Dwar , Bomdila, Sela  Tawang axis as recommended by China study group fore- sighting Sino India Conflict.  Other important Projects in North East states were Project Udayank in Dumdama region  Assam-, Project Arunanak was raised in Nahariagun , only railway station in Arunachal, covering Guru banda region. Project Sewak connecting Dimapur-Kohima- Imphal and also Zunhebota, Agunatho to Kiphire road in Nagaland,the area dominated by insurgents from 1958 t0 1996.
Project Setuk was for state of Assam and Meghalaya link and approach road to Bangladesh. The border fencing task was also assigned to this Task Force. Project Swastik was initiated for Siliguri- Gangtok link road including East Sikkim Nathu La and North Sikkim region. It was given a booster in 2008 and imp bridges were completed on River Teesta. Project Bhramank has been undertaken for Tezpur Demaji Tezu  Pasighat Link road north of Bharmaputra with a bridge over Lohit river till Parshuram Kund
Projects have been undertaken away from Border States as special case, in Eastern Maharastra and Chattisgarh Naxal Infested districts code named Project Hirak for development of connectivity in these backward tribal areas .Moreover, this project has been also extended to Andaman Nicobar Islands. Project Deepak has been allotted to border areas of Uttarakhand and linking of Char Dhams ie Gangoti, Jamanotri , Kedar Nath and Badri Nath.  The road to Hemkund Sahib is also part of the project. The project covers Village Mana , the last  village on Indian side before LAC. Project Shivalik is for border areas of Himachal Pradesh linking with Simla. Project Chetak was raised in 1962 one of the initial projects covering  Ganganagar , Suratgarh, Bikaner, Pokhran, Jaisalmer, Ramgarh, laungewala, Tanot  border areas in Rajasthan desert areas neighbouring Pakistan.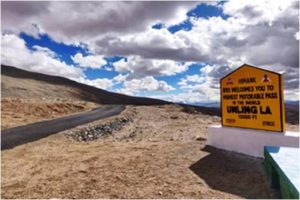 There are few International projects also. Project Dantak is the Life Line of Bhutan linking Thimpu with  Alipurduar in Cooch Bihar region of India. Project Zaranj was initiated in Afghanistan  to construct  Delaram  Zaranaj good will  highway , completed in 2008 and handed over to then Afghan regime. There is also Trilateral road project 1400 kms long , already approved and funds allotted $ 256 million dollars from Moreh Manipur  via Tamu and Yangoon in Myanmar to Mai sot  in Thailand. Moreover, two Air bases were reconstructed at Farkhor and Ayni for Tajikstan .
The achievements of BRO are Unique .From  May 1960 till date BRO has constructed 60000 kms of roads/Tracks, 840 bridges,19 Air fields and several tunnels of strategic value under adverse climatic and geographical conditions along Borders and also in friendly countries.
The completion of 220 km long strategic all weather  Durbuk-Shyok-Daulat Begi  oldi ( DSDBO) road has angered the Red dragon as now Indian troops and Mechanised forces have reached in the close proximity of Karakoram Pass .The DSDBO Road built by BRO crosses Shyok River at Sultan Chhusku on a 430 metre class 70 bridge named Colonel Chewang Rinchen Setu .The road took 19 years and was operational in  April 2019. Moreover, the repair and reactivation of DBO  Advance Landing Ground  has facilitated  regular landing of  IAF C 130 J Super Hercules. These two marvels have boosted the morale of troops on this part of LAC. During Financial Year 2021-2022, BRO created all time record by completing 102 Infra structure projects – 87 Bridges and 15 roads .
The other landmarks were construction World longest tunnel ( Length 9.02 km) above 10000 feet ( Atal Tunnel) costing 800 crores  near Rohtang La  on Manali Leh NH 3 bringing smiles and cheers on faces of inhabitants of Lahul- Spiti Valley, who used to be cut off for several months once Rohtang La used to be blocked due to heavy snowfall in October every year till  May next year. Manali- Leh distance is reduced by 46 kms and about 3 hours in terms of time. 0n 8 June 2020 , RM disclosed the completion of Pithoragarh – Darchula- Tawaghat- Kalapani- Lipulekh road the shortest route to Mansarover ,another gem by BRO.
BRO has planned to construct 410 Class 70 Two lane road bridges capable of taking load of a medium tanks ,all along 3440 km long LAC/ Mcmohan line horizontal and vertical road connectivity for development of remote area and fast mobilisation of troops till Tibet frontiers which includes 150 in Arunachal, 30 in Jammu Kashmir, 20 in Leh ,55 in Uttrakhand, 40 in Sikkim and 25 in Himachal Pradesh. Currently, Road access to High altitude posts on Sino Indian frontier is closed for almost 6 months in a year due to heavy snow fall and frequent avalanches and air maintenance remains the only alternative to maintain logistics chain which also have its own Technical and weather limitations.
There is a proposal to construct Tunnels on these Choke points to maintain all weather whole year connectivity. 17 bottlenecks have been identified by BRO and work is in progress since 2017 on fast mode.  Z-more Tunnel and Zoji la  tunnel on NH 1 Srinagar- Kargil-Leh  are under construction and are likely to be completed in 2024. Tunnels under Bara lacha la, Tang lang la, Lamchung La on Manali Leh NH 3 . Shinkhun La  tunnel near Nimmu  , Nechipu la( bomdila) and Se la tunnels  on road Misa mari – Tawang  NH 13, Theng tunnel in North Sikkim are approved . Atal Tunnel under Rohtang la on NH 3 and Chenani Nashri Tunnel near Ramban, Qazigund – Banihal tunnel under Pir Punjal Ranges on Jammu Srinagar Highway are already operational ,reducing distance from Jammu to Srinagar by 80 kms.
During  Sino Indian War 1962, Indo Pak War 1965 , Bangla Desh Liberation War 1971 , Kargil Conflict 1999 and Sino India standoff in 2020 and 2021 , BRO, even under enemy fire and kept the line of maintenance open for forward troops and connectivity for move of troops., Guns , ammunition, War stores  and rations remained open throughout hot war situation .
The mission of BRO sums up the determination of the organisation 'We will definitely find our way, even if it does not exist , we will create new one."