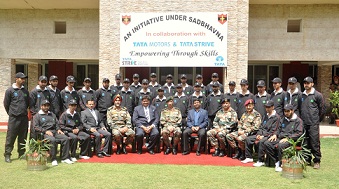 Defenceinfo Bureau Report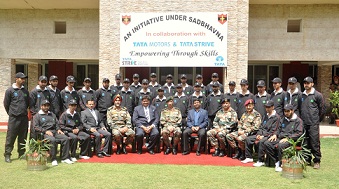 Udhampur: The Indian Army, under its welfare and development initiative, Operation Sadbhavna has tied up with Tata Motors for training of Kashmir youth as Automobile Service Technicians
The first thirteen weeks certified training course has been scheduled at the TATA Motors facility at Ropar, Punjab.
29 youth from Kashmir have been selected for this course Motors as part of a joint initiative between the Indian Army and TATA motors.
The flag off ceremony for the course held at Udhampur on May 3 and was presided over by Lt. Gen. DS Hooda, Army Commander of the elite Northern Command of the Army.
Also present in the function was Mr Sanjeev Garg, Vice President and Global Head Tata Motors Limited. He advised the trainees to make full use of this opportunity provided by the Army and to use this as a spring board to get jobs and even establish their own workshops.
He highlighted that the motive of this collaboration with the Army was to create quality standards in skill development industry and assist in increasing employment opportunities for the youth of Kashmir.
Operation Sadbhavana, was launched by the Indian Army almost two decades ago. The objective was to ameliorate the suffering of the people devastated by the shadow of the gun and also assist the civil administration in rebuilding of the socio-economic infrastructure that terrorism had destroyed.
"Education and vocational training have been pivotal in Operation Sadbhavna. Army Goodwill Schools are flagship projects under this initiative as are Vocational Training Centres and Youth Employment Guidance Nodes," says Jasbir Sarai a columnist and social activist with keen interest in Kashmir affairs.
The Army has been consistently upgrading its initiatives under Operation Sadbhavna. Efforts in recent times have been directed towards collaborations with specialists to bring in a higher degree of professionalism and expertise in the projects.
Earlier, fifteen students of Jammu and Kashmir coached under the Super 30 programme sponsored by Operation Sadbhavna, cleared the prestigious JEE (Mains) 2016 competitive examination. This initiative launched in 2014 is based on the model of the Super 30 in Bihar that has attained global recognition. The Kashmir Super 30 is being run in partnership with the Centre for Social Responsibility and Leadership.
Tata Motors has also committed to offer employment to these youth at its authorised dealerships in the state and elsewhere in India based on their performance during the training.  A MoU was also signed between the Army and Tata Motors to further cement this relationship for further engagements in the future.