Defenceinfo Bureau Report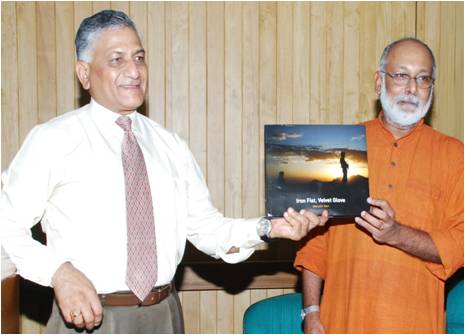 The Army Chief, General VK Singh, recently released a Coffee Table Book, `Iron Fist & Velvet Glove', at the Indian Habitat Centre, New Delhi. The book has been compiled by a photo-journalist, Mahesh Nair, from his experiences while travelling along the Indo-Pakistan border and the interiors of the State of Jammu and Kashmir. The book reflects the life for the Army man along the line of control and in terrorism/insurgency afflicted regions of the Nations frontier. It is also interspersed with touching images of lives of locals in border areas of Jammu and Kashmir and the involvement of the Army towards ameliorating their day to day problems.
It becomes quite evident from the book that, apart from maintaining peace and tranquility, the Army has a major stake in ushering development in the far flung, inhospitable upper reaches of the State which are quite inaccessible even for the State government agencies. These measures towards enhancing the health, education and social empowerment sector amongst others, while improving the physical infrastructure, are carried out by the Army under the ambit of a government sponsored initiative most aptly named Operation Sadbhavna. The book boasts of some beautiful pictures and has a racy narrative which makes it very interesting reading.