Defenceinfo Bureau Report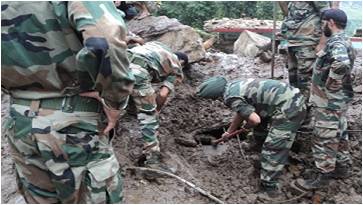 The Ukhimath Tehsil of Rudraprayag District in Uttrakhand was hit by a massive cloud burst around midnight on September, 13, 2012. The natural calamity has resulted in loss of lives and extensive devastation in three villages. Kund-Ukhimath-Chamoli road, the lifeline for the residents of the area, has been considerably damaged because of which rescue efforts could not reach the incident site till the afternoon of September, 14.
In the wee hours of September, 14, the District Magistrate of Rudraprayag requisitioned the Army to render relief effort for the distressed villagers. The Army Brigade at Joshimath immediately swung into action and Army teams were the first one to reach the spot. Despite incessant rains and bad weather the Army columns launched rescue efforts to save precious lives. The Army has set up a medical camp and launched two columns to rescue the villagers buried under the rubble while providing food and shelter to those rendered homeless.
The best wishes of the Nation are with the people of Uttrakhand who are facing a severe crisis. One can fervently hope that the civil administration will make best use of the army to bring about normalcy in the shortest period of time.