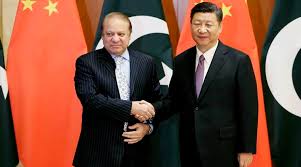 Jasbir Sarai
India abstaining from attending the Belt and Road Forum (BARF) conclave to discuss the One Belt One Road (OBOR) initiative has led to a scintillating debate of the merits/demerits of the decision taken. China, of course, has been vociferous in its criticism of India's decision and has termed it as "rigid and obscurantist." Others who support the Chinese viewpoint emphasised that the participating countries included big ones like the US, Japan and South Korea that have serious issues with China but still opted to register a presence.
The fact of the matter is that China, by consistently stonewalling India's concerns with regard to Pakistan and more importantly Gilgit-Baltistan, has left no option for the country but to decline the invite. The China Pakistan Economic Corridor (CPEC) is very much a part of OBOR and it passes through Gilgit-Baltistan – Indian Territory under forcible occupation of both Pakistan and China.
On its part, China is quick to express a high degree of sensitivity about Tibet and areas that form part of the long festering border dispute with India. It protested strongly against the visit of the Dalai Lama to Arunachal Pradesh and has been opposing projects in the Indian state for which international funding is being sought.
India has not taken kindly to the diplomatic assistance that China has provided to Pakistan by blocking the UN resolution of declaring the Pakistan based Jaish-e-Mohammad (JeM) a terrorist organisation not once but twice. The emir (leader) of the JeM, Maulana Masood Azar, is a wanted terrorist in India.
In view of consistent  transgressions by China, abstaining from the initiative by India comes across as a logical, righteous and justified decision. Chinese irritation at the decision makes it apparent that it has suffered a severe setback since India holds the key to the success of the OBOR project in the South Asian region.
India, on her part, is not losing out as much as is being said. While the smaller countries have an interest in Chinese funding, India is not in need of the same. In fact, other countries would also be well advised to exercise caution since the loans being offered carry a heavy interest liability and stringent conditions, including use of Chinese equipment and manpower, for the projects. An additional objective for China is to offload its excessive production in materials like cement, steel, heavy machinery etc.
It is common knowledge that OBOR offers a win-win situation for China while the other "partners" are likely to get embroiled in a "debt and sovereignty" trap. The recipient countries are well aware of such hegemonic policies that China follows and there is resentment against the same, especially so, in the political leadership that has nothing to show to the people as an immediate benefit. Countries like Sri Lanka and Bangladesh, where Chinese projects are underway, are already feeling undercurrents of resentment with a word going around that the Indian model of collaboration is much better.
Having taken a firm and righteous stand India now has to look at the options available to counter Chinese hegemony and the possibility of being "isolated."
A first step in this direction would be expediting internal connectivity for which work has been going on for decades, albeit at an excruciatingly slow pace. Once the internal communication network is in place, it can be linked with friendly neighbouring countries through the medium of small but well laid out projects. Acceleration in economic reforms will position India as a lucrative option for the South Asian countries to look towards for economic partnership. India normally extends assistance without the kind of strings that China attaches in terms of loans and use of Chinese infrastructure and manpower. Indian assistance, therefore, will be welcomed in the neighbourhood even if it comes at a smaller scale.
India centric communication network in South Asia has received a considerable boost with the launch of the South Asia Satellite which has been well received by SAARC countries.  The initiative needs to be leveraged with many more such projects that instill confidence about India's continued support to development in South Asia.
Other projects like the Bangladesh – India – Myanmar – Sri Lanka – Thailand Economic Cooperation (BIMSTEC) project  and the Chabahar project in Iran should be undertaken by India on a case to case basis and after due cost-benefit analysis. What is more important in the long term is credibility by keeping quality over quantity.
In formulation of such projects, India can incorporate countries like Japan with which she enjoys a strong relationship of trust. There already are joint Indo-Japanese projects in the pipeline like extension of the Chabahar project and building port capacities in Sri Lanka and Myanmar. Timely and proper completion of these projects will go a long way in showcasing India's trustworthiness.
India should remain sensitive to the fault lines of the OBOR initiative. The initiative should not be allowed to degenerate into a grandiose scheme designed to showcase Chinese superiority, nor should it move in a direction where the biggest profit goes the Chinese way. Above all, the sovereignty of participating states should not be jeopardised. To ensure this, progress of projects under the initiative should be closely watched and the information spectrum should be utilised to highlight fault lines where required. Indian intelligentsia and subject experts should take the lead in this direction.
India has always pitched for strong ties with China as has been seen by the statements of two successive prime ministers, Dr. Manmohan Singh and Narendra Modi. India, therefore, has the righteousness of her good intentions in her favour. OBOR may well fall under the weight of its own contradictions.  It is very much possible that not being part of the OBOR initiative would turn out to be a boon rather than a bane for India.